iPhone XR Now Available for Pre-Order From Apple's Online Store
Apple is now accepting pre-orders for the new iPhone XR through its online storefront on the web and through its Apple Store app on iOS devices.
The 6.1-inch iPhone XR is the third iPhone in the 2018 iPhone lineup, and the most affordable of the new devices.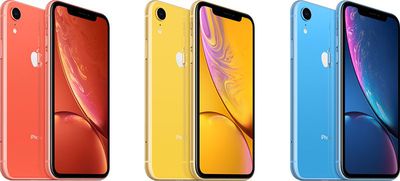 Rather than an OLED display, a dual-lens camera system, a stainless steel frame, 3D Touch, and Gigabit LTE, the iPhone XR features more affordable components that include an LCD display with a resolution of 1792x828, a single-lens camera system, lesser water resistance, an aluminum frame, Haptic Touch, and LTE Advanced.


On the plus side, the iPhone XR has a longer battery life than the iPhone XS and XS Max, and it comes in six colors: white, black, blue, coral, yellow, and (PRODUCT)RED. Design wise, it looks similar to the iPhone XS and XS Max with an edge-to-edge LCD display that includes a notch and a TrueDepth camera system, but its bezels are slightly wider.
The iPhone XR adopts the same Face ID functionality as the iPhone XS and XS Max, with Apple eliminating the Home button in all of its flagship iPhones in 2018. The iPhone XR also supports dual-SIM functionality like the iPhone XS, and it has the same super fast A12 chip.


It also features a glass body that supports wireless charging functionality, and through software enhancements, it supports many of the same camera features including Portrait Mode, Depth Control, and Smart HDR.
Pre-orders for the iPhone XR are available in first wave launch countries including Albania, Andorra, Australia, Austria, Bahrain, Belgium, Bosnia, Bulgaria, Canada, China, Croatia, Cyprus, Czech Republic, Denmark, Estonia, Finland, France, Germany, Greece, Greenland, Guernsey, Herzegovina, Hong Kong, Hungary, Iceland, India, Ireland, Isle of Man, Italy, Japan, Jersey, Kosovo, Kuwait, Latvia, Liechtenstein, Lithuania, Luxembourg, Macedonia, Malta, Malaysia, Mexico, Monaco, Montenegro, Netherlands, New Zealand, Norway, Oman, Poland, Portugal, Puerto Rico, Qatar, Romania, Russia, Saudi Arabia, Singapore, Serbia, Slovakia, Slovenia, South Africa, Spain, Sweden, Switzerland, Taiwan, Thailand, the UAE, UK, US and US Virgin Islands.
All of the major U.S. carriers -- Verizon, AT&T, Sprint, and T-Mobile -- are accepting pre-orders for the new devices, as are many other carriers around the world. Major online retailers including Best Buy and Target are also accepting pre-orders starting today.


Pricing on the iPhone XR starts at $749 for 64GB of storage, with 128GB of storage available for $799 and 256GB of storage available for $899. iPhone Upgrade Program customers can get the iPhone XR starting at $37.41 per month.
In the United States, customers can purchase iPhone XR models from any of the four major carriers using Apple's site. SIM-free models are not available at this time, suggesting supplies of the iPhone XR could be somewhat constrained.
Customers who successfully place an order for launch day delivery can expect to begin receiving their devices starting on Friday, October 26, the official launch date for the iPhone XR.