Apple Highlights Apps Offering Siri Shortcuts Integration
Apple in iOS 12 introduced a new Siri Shortcuts feature that's designed to let users create multi-step automations using first and third-party apps.
Since iOS 12's release, app developers have been adding Siri Shortcuts support to their apps, and today, Apple highlighted several apps that have launched useful Siri Shortcut options.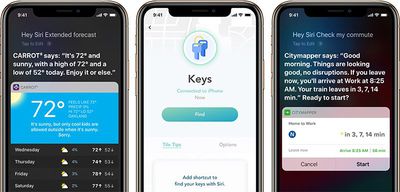 Tile, for example, has added a Shortcut designed to let you find an item attached to a Tile device, like your keys, by asking Siri. Apps like CARROT and Dark Sky offer up weather details with Siri commands like "rain report" or "UV index," while Citymapper lets you get commute information in seconds.
Evernote lets you get quick access to Shortcuts for sharing notes, creating audio notes, creating camera notes, and printing, while Day One has Shortcuts for creating journal entries and recording audio. Calendar app Fantastical lets you schedule events and preview what's coming next, and Trello, Things, and Omnifocus all have Shortcut options for streamlining projects.


Apple also highlights Waterminder for tracking your water intake, Lose It! for keeping track of what you're eating, MyTherapy for monitoring daily medications, and meditation in Headspace, all features that can be accessed via simple Siri commands without the need to open up the respective apps.