Upcoming 2018 iPad Pro Could Be 5.9mm Thick With No Headphone Jack
Apple's upcoming iPad Pro could be one of its thinnest devices yet, measuring in at just 5.9mm thick, based on details shared by a leaker on Twitter who previously provided accurate details on the iPhone XS and XR ahead of launch.
According to Twitter user CoinCoin, the upcoming iPad Pro will measure in at just 5.9mm, and due to its thinness, there will be no room for Apple to include a headphone jack.
Of course no headphone jack on the upcoming new iPad. 5.9mm thickness is pretty good though. — CoinCoin (@coiiiiiiiin) October 12, 2018
The 5.9mm estimate
matches up
with alleged iPad Pro dimensions shared yesterday on
Slashleaks
, which suggested the new iPad Pro would measure 5.86mm thick.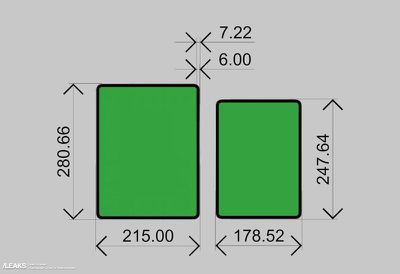 It is also in line with current iPad Pro measurements. The existing 10.5-inch iPad Pro is 6.1mm thick, so it would make sense for a new model to be somewhat thinner.
It's likely the 5.9mm estimate applies to the smaller of the two 2018 iPad Pro models that Apple is expected to introduce, which could be somewhere around 10.5 to 11 inches in size. Apple's current 12.9-inch iPad Pro is thicker than the 10.5-inch version, measuring in at 6.9mm thick.
The iPad Pro dimensions shared on Slashleaks yesterday suggest the smaller iPad Pro will be 7 inches wide (178.52mm) and 9.7 inches tall (247.64mm), while the larger model will be 8.5 inches wide (215mm) and 11 inches tall (280.66mm).


We've seen similar dimension estimates in earlier rumors from Japanese site Mac Otakara, suggesting the smaller iPad Pro will measure in at 247.5mm tall, 178.7mm wide, and 6mm thick, while the larger model will measure 280mm tall, 215mm wide, and 6.4mm thick.


Comparatively, the current 10.5-inch iPad Pro measures in at 6.8 inches wide (174.1mm) by 9.8 inches tall (250.6mm), while the 12.9-inch model measures in at 8.68 inches wide (220.6mm) by 12 inches tall (305.7mm).
Bezels on the new tablets could measure in right around 6mm at the top, bottom, and sides, with the 7.2mm measurement on the Slashleaks document perhaps referring to bezel thickness with side button included.
Multiple prior rumors have indeed suggested that the next-generation iPad Pro models will feature slimmer bezels all the way around, with the top bezel housing a TrueDepth camera system for Face ID. The bottom bezel is slimmer than in existing models because Apple plans to remove the Home button.
Coming back to the prediction of no headphone jack, this isn't the first time we've heard that rumor. Back in July, Mac Otakara also said that the upcoming iPad Pro models will not include a headphone jack. iPhone models have not offered a headphone jack since the iPhone 7, with Apple instead encouraging customers to use Bluetooth headphones like the AirPods or Lightning-based solutions.
The info shared on Slashleaks is likely from a case maker and because it's supported with data obtained from other sources, it's quite possibly accurate. Aside from the dimensions of the new iPad Pro models, the info also confirms the presence of a new Smart Connector at the back of the two tablets.


Other 2018 iPad Pro rumors suggest the device will feature a USB-C port instead of a Lightning port, a faster A12X chip, and support for a second-generation Apple Pencil.
It's not clear when the new iPad Pro models will be announced, but their debut is likely coming soon. We're expecting Apple to hold an event at some point in October, with the end of October looking like the most probable option.