Apple Said to Have 'Dramatically Reduced' Multi-Billion-Dollar iPhone Repair Fraud in China
Within the past four years, Apple has managed to "dramatically reduce" the rate of iPhone-related repair fraud in its retail stores in China, according to The Information's Wayne Ma. The report is based on interviews with more than a dozen former Apple employees who spoke on condition of anonymity.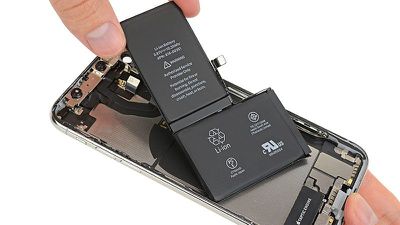 Image: iFixit
In 2013, Apple is said to have discovered a highly sophisticated fraud scheme in which organized thieves would buy or steal iPhones, remove valuable components like the processor or logic board, swap in fake components, and return the "broken" iPhones to receive replacements they could resell.
Thieves would stand outside stores with suitcases full of iPhones with some of the original components stripped out and replaced with inferior parts, two of the people said. The fraudsters would hire people to pretend to be customers to return them, each taking a device to stand in line at the Genius Bar, the people said. Once the phones were swapped, the actors would pass the new phones to the fraudsters and get paid for their time, the people said.
"In the old-school world, this would be a car chop shop, where you would take all the pieces off and sell them," said Kyle Wiens, co-founder and CEO of iFixit. "Now they're doing that with iPhones."
The report claims most of the schemes originated in Shenzhen, a southern Chinese city known as a hotbed for criminal organizations because of its proximity to gangs in nearby Hong Kong. Shenzhen is also the largest electronics manufacturing base in the world, home to many Apple suppliers like Foxconn.
When the first Apple Store opened in Shenzhen in November 2012, the report says weekly iPhone warranty claims, including repair and replacement requests, jumped from about 200 to more than 2,000 within the first six months—"almost three times more" than Apple's flagship Fifth Avenue store in New York at the time.
At first, the report says Genius Bar employees would swap broken iPhones for new ones as long as they didn't appear intentionally damaged, as was the policy elsewhere. But as the problem started to have a material impact on Apple's financial sheet, to the tune of billions, the company began to take further action.
Hesitant to get Chinese authorities involved, due to the risks of public backlash and negative publicity in state-run media, Apple launched an online reservation system that required proof of ownership, and later developed diagnostic software that allowed retail employees to quickly detect fake parts in iPhones.
Fraudsters found ways to evade these tactics, however, and even went as far as obtaining Apple customer records, including serial numbers, for iPhones that had already been sold in China. Last year, police in China arrested a ring of suspected data thieves involved with the fraud.
An increase in rejected warranty claims sparked angry scenes in Apple Stores, the report says, as customers suspected of fraud "grew irate" when their iPhones weren't accepted. Partly for this reason, Apple stopped authorizing iPhone replacements in stores and began requiring sending them to off-site repair centers for inspection.
Apple also began dipping batteries in a special dye that could only be seen under a high-frequency light to authenticate them during repairs, the report says. A-series chips in iPhones are also allegedly coated in a waterproof sealant that can be seen under certain wavelengths, offering another countermeasure.
Apple's efforts appear to have worked, with fraud rates in the Greater China region dropping to about 20 percent of repair claims from more than 60 percent at its peak, according to the report.
Fraudsters are now said to be shifting to Apple Stores in other countries, including Turkey and the United Arab Emirates.