Adobe today released updated versions of Photoshop Elements and Premiere Elements, the company's more affordable photo and video editing software aimed at casual home users who want to improve their images and videos with easy-to-use editing tools.
Photoshop and Premiere Elements 2019 feature a new Home Screen that offers up information on what's new since the last version, inspirational ideas, suggestions for edits to try, tutorials, and auto-generated photo and video slideshows.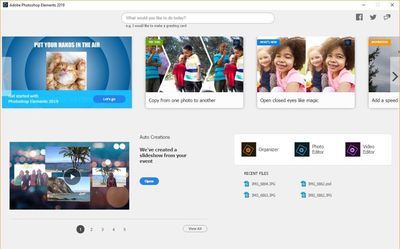 The new Auto Creations feature that provides the automatic photo and video slideshows on the updated Home Screen is powered by Adobe's Sensei AI technology.
Photoshop Elements 2019 includes revamped photo collages with new templates, frames, and backgrounds, some of which are ideal for sharing on social media, and there are a series of new guided edits that are designed to walk Elements users through different creative tasks.
A multi-photo text option guides users through creating visual text with a photo inside of each letter for creating words or names for use with scrapbooking, card making, and more, while another new guided edit teaches users how to turn photos into memes for sharing on social media.


A third guided edit is available for turning just one part of a photo into a pencil sketch, and the final new guided edit helps users embellish photos with borders and text, also ideal for social media.
In Premiere Elements, there's a redesigned Quick Edit mode that walks users through creating movies with instructions on trimming a video, combining clips, and adding photos, titles, music, and more.
There are two new guided edit options for adding glass pane effects to a video and creating dramatic scene transitions by fading colors from darkest to lightest.


Photoshop Elements now includes support for the HEIF photos captured with the iPhone, while Premiere Elements supports HEIF, HEVC, and VFR. Both Photoshop and Premiere Elements feature faster performance for common tasks.
Photoshop and Premiere Elements 2019 are available for purchase for $99 each from the Adobe website starting today. Bundles are available for $149.99, and existing users can upgrade for $79.99 for one product or $119 for the bundle.