Wi-Fi Alliance Simplifies Wi-Fi Naming Scheme With Upcoming 'Wi-Fi 6' Release
The Wi-Fi Alliance, dedicated to developing new wireless networking standards, is planning to make Wi-Fi naming simpler with the upcoming launch of the newest Wi-Fi standard, 802.11ax.
802.11ax will be known as "Wi-Fi 6," making it easier for Wi-Fi users to understand the difference between 802.11ax, 802.11ac, and 802.11n.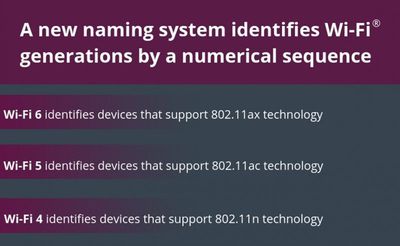 With the launch of Wi-Fi 6, 802.11ac will be known as "Wi-Fi 5," while 802.11n will be known as "Wi-Fi 4."
"For nearly two decades, Wi-Fi users have had to sort through technical naming conventions to determine if their devices support the latest Wi-Fi," said Edgar Figueroa, president and CEO of Wi-Fi Alliance. "Wi-Fi Alliance is excited to introduce Wi-Fi 6, and present a new naming scheme to help industry and Wi-Fi users easily understand the Wi-Fi generation supported by their device or connection."
Wi-Fi 6 will introduce higher data rates, increased capacity, better performance in dense environments like concerts and sporting events, and improved power efficiency so Wi-Fi won't eat up as much battery on future devices.
In 802.11ax tests, speeds of up to 4.8Gbit/s over the 5GHz band have been reached. In demonstrations at CES, speeds maxed out at 11Gbit/s.
The new capabilities being introduced are outlined below, as specified by the Wi-Fi Alliance.
Uplink and downlink orthogonal frequency division multiple access (OFDMA) increases efficiency and lowers latency for high demand environments
1024 quadrature amplitude modulation mode (1024-QAM) enables peak gigabit speeds for emerging, bandwidth-intensive use cases
Improved medium access control (MAC) control signaling increases throughput and capacity while reducing latency
Increased symbol durations make outdoor network operations more robust
Wi-Fi 6 is expected to provide performance improvements to smart home setups with multiple Internet of Things devices, as well as businesses and those running large-scale deployments. The Wi-Fi 6 standard is expected to be finalized next year.