iOS 12.1 Beta Includes Fix for iOS 12 iPhone and iPad Charging Issue
The second beta of iOS 12.1, which was released this morning, includes a fix for a charging issue affecting the iPhone XS, XS Max, and other iOS devices.
Discovered following the launch of the two new iPhones and highlighted over the weekend, the charging bug causes some iPhone and iPad devices to refuse to charge over a Lightning connection when the screen is not activated.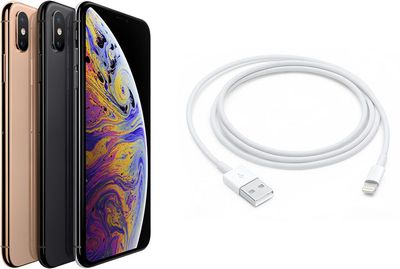 According to iMore's Rene Ritchie, the new iOS 12.1 beta fixes the issue so iOS users will no longer need to double check to make sure their devices are charging after being plugged in.
Today's iOS 12.1 beta includes a fix for the charging issue some people were experiencing with iPhone and iPad. With it, no more delay or uncertainty about charging. You'll be back to just plugging it in and getting power. (Pretty much what I said in my video yesterday.) — Rene Ritchie (@reneritchie) October 2, 2018
The bug does not affect all iPhones and iPads, but those who are impacted have seen their devices fail to charge over Lightning when plugged in while the iPhone is asleep.
Tapping the iPhone to wake it up in this situation resumes charging, but an iPhone that is affected and plugged in with the screen deactivated can refuse to charge, resulting in uncertainty over whether or not a device is actually charging.
While this issue originally came to light because of complaints from iPhone XS and iPhone XS Max owners, it appears it was widespread and affected many devices running iOS 12.