Halide Developer Takes a Deep Dive Into iPhone XS Camera and Skin Smoothing Rumors
Sebastiaan de With, the developer behind photography app Halide, has taken an in-depth look at the front and rear-facing cameras in the iPhone XS and XS Max, providing some insight into complaints about a possible skin smoothing "beauty mode" that results in less realistic selfies than prior iPhone models.
A soft filter on selfies "doesn't exist," says de With, with the smoother look attributed to more aggressive noise reduction techniques and the merging of exposures that eliminates sharp light and dark contrasts where light hits the skin.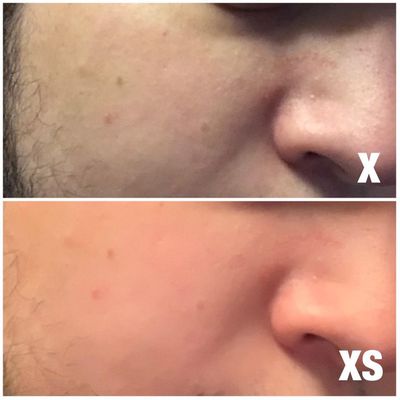 Camera differences between iPhone X and XS Max demoed by a

Reddit user


Both the front and rear-facing cameras in the iPhone XS and XS Max are using computational geography to improve photo quality, a feature that takes multiple shots at once and then merges them into a single perfect photo.
Apple's iPhone XS website explains all of the different things that are going on behind the scenes when an image is captured, and part of the process involves taking shots that are underexposed, overexposed, and captured at different times, with the camera taking the best elements of each shot and combining them.

Apple says the iPhone XS performs 1 trillion operations per photo


According to de With, this results in a "whole new look" for photos that represents a "drastic departure" from images captured with previous-generation iPhones. As the Halide blog post explains, the small areas of contrast seen in photos from older iPhones can make images look sharper, but these areas of deep contrast have been eliminated in the iPhone XS models.
Using the exposure merging techniques, the iPhone XS reduces the brightness of the bright areas and the darkness of the shadows. While the detail is still there, we see it as less sharp because of this loss of contrast. Skin ends up looking smoother because the "light isn't as harsh."
The iPhone XS and XS Max are also using much more aggressive noise reduction techniques than in previous iPhones. de With says this is because the iPhone XS models prefer a faster shutter speed and a higher ISO level, capturing photos quicker but resulting in more noise. Taking care of that noise sacrifices some detail and contrast.

Noise in a RAW iPhone X image (left) compared to RAW iPhone XS image (right)


In the front-facing camera specifically, which uses a smaller sensor than the rear-facing camera, the heavy noise reduction paired with the image merging techniques leads to the noticeably smoother selfies that people have seen with the iPhone XS camera.
The tradeoff is that selfies, which traditionally are worse in mixed or harsh lighting (the majority of lighting!) are now no longer blown out, and in most cases it just looks better, if just a little on the smooth side.
According to de With, Apple can tweak these settings through software updates if the majority of people are unhappy with the selfie camera, so we may see a better compromise between noise reduction and the filtering of harsh lighting in the future.
All in all, de With believes the iPhone XS camera is better than the iPhone X camera thanks to its superior dynamic range, with some post processing able to re-add the contrast where necessary.
There are issues with RAW image capture because of the noise level. When taking RAW photos with an app like Halide, de With says it is a must to do so manually and to reduce the exposure. Otherwise, RAW images will end up looking worse than Smart HDR JPEGs.
To account for the changes to RAW image capture, Halide is gaining a new Smart RAW feature that uses the new sensor tech in the iPhone XS to get better images. It avoids Smart HDR all together to cut down on noise reduction and pull out more detail.
Halide's full blog post is well worth a read for anyone interested in an in-depth look at the camera changes Apple has introduced in the iPhone XS and XS Max. The Halide app can be downloaded from the App Store for $5.99. [Direct Link]