Apple Watch Series 4 Expected to Gain Second Manufacturer Following 'Much Better Than Expected' Demand
Taiwanese manufacturer Compal Electronics will begin mass production of Apple Watch Series 4 models in November, according to industry sources cited by supply chain-focused publication DigiTimes.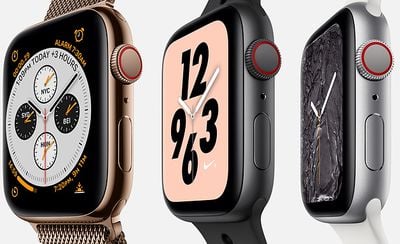 Compal will share orders with fellow Taiwanese manufacturer Quanta Computer, which has reportedly reached its maximum capacity for Apple Watch Series 4 production following "much better than expected demand" for the latest models, according to Apple analyst extraordinaire Ming-Chi Kuo.
Kuo also said Compal will be added as a second supplier of Apple Watch Series 4 models, which entails final assembly of the wearable.
Kuo believes Apple Watch shipments from suppliers to Apple will fall between 18 million and 19.5 million units in 2018. Apple does not disclose Apple Watch sales, grouping the device under its broad "Other Products" category in its earnings reports, alongside the Apple TV, AirPods, HomePod, and so forth.
Apple Watch is the world's most popular smartwatch by many metrics, including market share and revenue. In fact, Apple says the Apple Watch is the world's most popular watch of any kind, having surpassed Rolex.
Many models of the Apple Watch Series 4 ordered on Apple.com today are estimated to be delivered in late October in the United States, lending credence to strong demand, limited supply, or some combination of the two. With a second supplier coming on board in November, availability should improve.