Kuo: iPhone XS Max Significantly Outselling iPhone XS, 256GB Most Popular, 512GB Subject to Serious Shortage
In a research note obtained by MacRumors today, Apple analyst Ming-Chi Kuo has provided launch-weekend takeaways for the iPhone XS, iPhone XS Max, and Apple Watch Series 4, all of which went on sale Friday.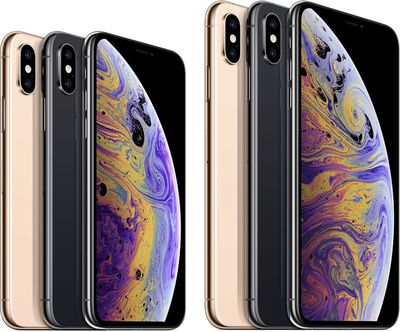 Kuo says that iPhone XS Max demand is "better than expected," with the 6.5-inch model outselling the iPhone XS by three to four times. He says the 256GB storage option is most popular, with the 512GB configuration subject to a "serious shortage" due to Samsung being the only reliable supplier.
We have determined that the demand for XS Max is better than expected (3–4 times that of XS). The gold and space-grey colors are significantly more popular than the silver. 256GB is the most popular, and 512GB is subject to a serious shortage because only Samsung can currently ship NAND Flash well. We are positive that XS Max shipments will grow steadily in 4Q18 thanks to demand from Asia market and the gift season.
The well-known analyst believes Apple Watch Series 4 demand is "much better than expected," with supplies likely to remain tight until Compal begins mass production starting from November, as a secondary supplier alongside Quanta.
Apple Watch Series 4 demand is much better than expected. The capacity of the assembler Quanta is full already; therefore, the supply cannot improve significantly until second supplier Compal's mass production for Apple Watch Series 4 starting from November. We have increased the Apple Watch shipment forecast in 2018 from 18mn to 18.5–19.5mn units.
Kuo believes the iPhone XR will be a hot seller, with more customers upgrading to that model than the iPhone 8 series spurred last year. He is also confident that the device's display-related production bottleneck will "markedly improve" beginning in mid to late October. iPhone XR pre-orders begin October 19.
Kuo expressed similar opinions following the first weekend of iPhone XS, iPhone XS Max, and Apple Watch Series 4 pre-orders last week.