Developer Snowman today announced that its popular endless runner game for iOS, Alto's Adventure, is now available on macOS computers. The developer says that the launch of the game on macOS was timed with the upcoming release of macOS Mojave and the new Mac App Store, which should arrive at around 10:00 a.m. PT later today.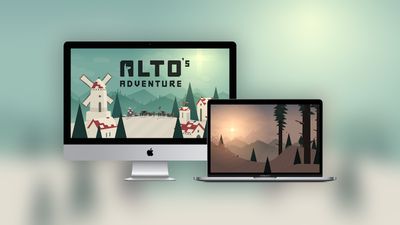 You don't need macOS Mojave to download Alto's Adventure, however, since the game is out on the Mac App Store now for $9.99 [Direct Link]. The game follows Alto as he journeys across various environments on an endless snowboarding adventure, where players have to guide Alto and chain together combos using a one-trick button system.
Alto's Adventure first launched for iOS in February 2015, and was followed up this year with a sequel called Alto's Odyssey. The sequel is still an endless runner, but introduces new features, controls, and a new desert location. Snowman says there's a good chance that Alto's Odyssey will appear on macOS as well.