Amazon Reveals New Alexa-Compatible Echo Speakers, Subwoofer, Amplifiers, Microwave, Wall Clock, and More
Amazon held a big hardware event today at The Seattle Spheres, located at Amazon's headquarters campus in Washington state. The event was notable for Amazon, with senior vice president of Amazon Devices Dave Limp stating that it marked the largest number of devices and features that Amazon has ever debuted in one day.
The first product unveiling was a new and upgraded Echo Dot, which includes a brand new mic array for better performance. The company says the driver is much larger -- increasing from 1.1" to a 1.6" driver -- resulting in more powerful sound with lower distortion, enhanced bass reproduction, and increased overall max volume.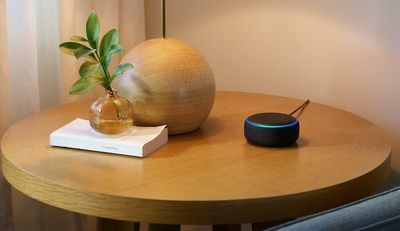 Echo Dot
Through all of the upgrades, Echo Dot's footprint still hasn't increased and the price will remain at $49.99, just like previous generations. The new Echo Dot ships in October, and pre-orders go up today.
There's also a new mainline Echo device, the new Echo Plus. This generation has more powerful sound with stronger bass and clearer playback. There's a new equalizer feature that lets you use your voice to adjust the bass and treble through Alexa, a built-in smart home hub so you can set up devices by stating "Alexa, discover my devices," and an integrated temperature sensor so you can trigger routines based on how cool or hot the room is.

Echo Plus will cost $149.99 and is up for pre-order today before its October launch.
A new Echo Show has been completely redesigned with a larger screen, included smart home hub, and improved sound quality. There are dual, side-firing 2" Neodymium drivers, a passive bass radiator and Dolby processing for stereo sound; a 10-inch HD display that's twice the display area of the original Echo Show; and an 8-mic array. The new Echo Show will cost $229.99, and can be pre-ordered today to arrive next month.

Echo Show
Next, the company announced the Echo Input, which is the first Echo device without a speaker. Echo Input adds Alexa voice controls to another Bluetooth speaker via a 3.5mm audio cable or Bluetooth. The device has a four-microphone array, support Alexa commands, and is just 12.5mm tall. Echo Input will launch later this year for $34.99.

Echo Sub
Amazon also revealed the Echo Sub (via
The Verge
), which is aimed at adding deep bass to an existing Echo device ecosystem through stereo pairing. The 100W subwoofer can be paired with two compatible Echo devices (to get a 2.1 stereo system) and will be controlled via the Alexa mobile app or your voice. Echo Sub is up for pre-order today and will ship later this month for $129.99.
To add even more controls to an Amazon ecosystem, the Echo Link is designed to connect to a receiver or amplifier and includes multiple digital and analog inputs and outputs. This ensures compatibility with existing stereo equipment, allowing you to control music selection, volume, and multi-room playback on your stereo with your Echo or the Alexa app. Echo Link costs $199.99 and will launch later in the year.

Echo Link
Amazon debuted another stereo amplifier called the Echo Link Amp, and this one has a built-in 60W 2-channel amplifier, multiple digital and analog inputs and outputs for connectivity with existing equipment, and the expected music playback controls. The Echo Link Amp will cost $299.99 and also launches later this year. It's important to note that neither the Echo Link or Echo Link Amp include onboard microphones for Alexa controls, since they're designed to connect to other Echo speakers for that functionality.

Amazon Smart Plug
The company revealed its first foray into the smart plug category with the Amazon Smart Plug, which is the first device to ship with Amazon's new Wi-Fi Simple Setup feature that was also announced today. Like existing smart plugs, you can use the Amazon Smart Plug to turn older devices (with basic on/off settings) into smart home gadgets that can be controlled from your smartphone or through a smart assistant. Amazon's option will be $24.99 and is up for pre-order today ahead of an October launch.

AmazonBasics Microwave
Expanding further into smart home appliances, Amazon revealed the AmazonBasics Microwave, which includes dozens of quick-cook voice presets so that you can cook food by talking to Alexa. There's a built-in Ask Alexa button, so that you can press it and give a cooking command like "two minutes and 30 seconds on medium" to start the microwave. The AmazonBasics Microwave will cost $59.99 and launch later in the year.

Echo Wall Clock
Amazon has also now placed Alexa in a wall clock with the Echo Wall Clock, which performs all of the expected Alexa and Echo tasks, while also telling the time. The Echo Wall Clock costs $29.99 and will ship later this year.
For the vehicle market, Amazon revealed the Echo Auto, a small device that has an eight-microphone array that can pick up Alexa commands through noisy car environments. Echo Auto isn't a full infotainment system in itself, but instead acts as a sort of dongle that you can plug into an existing system to gain Alexa skills in your car.

Amazon announced as many as 70 total devices, updates, and features today, so we've quickly rounded up some of these below:
New Ring Stick Up Cam with wired and battery options. Wired version is available for pre-order today for $179.99, battery version coming in December
Alexa is becoming more opinionated and personal, with improved short term memory
Routines for Kids: Alexa Routines that let parents easily build Routines for their family, like "Alexa, good night" so Alexa will turn off lights, start sleep sounds, etc.
Alexa Multi-Room Music will let you sync your Amazon Music across speakers from multiple device makers
New Alexa music controls: now you can say "Alexa, I want to follow Imagine Dragons" and the assistant will alert you when they have a new album
Local voice control for smart home devices: cloud-based NLU and ASR are now local to the Echo Plus, so you can still control your smart home devices when the internet is down
Wi-Fi Simple Setup for super simple Wi-Fi setup on new devices
Broadcasting capabilities on Echo, Fire TV, and Alexa app later this year
Alexa now has "hunches," so if you say "Alexa, good night" but your front door is still unlocked, Alexa will warn you
New v4 smart home API and Alexa Connect Kit entering public preview today, lets developers make any device work with Alexa
Alexa Guard helps you protect your home when you're away, with smart alerts, audio clips, and more, using Echo devices to listen and watch your house
Away Lighting to intelligently turn smart lights on and off in natural patterns when you're away
Doorbell support and doorbell chime announcements coming to Echo Show and Echo Spot
Alexa can give step-by-step cooking instructions
Fire TV Recast: new companion DVR to watch and record free OTA programming to any Fire TV or Echo Show
If you're interested, all of the products up for pre-order today should begin appearing on Amazon's Echo and Alexa page soon.