Apple Highlights Apple Watch Series 4 Reviews
Reviews for the new Apple Watch Series 4 models went live this morning ahead of Friday's launch, and in a new press release, Apple has highlighted reviews from several members of the media who were able to spend some hands on time with the new Apple Watches.
Apple shared key review passages from a variety websites focused on tech, health, fitness, fashion, and lifestyle, including The New York Times, Women's Health, USA Today, Hodinkee, Men's Journal, TechCrunch, Vogue, Refinery29, The Independent, Wareable, MobileSyrup, Best Health, The Straits Times, and Vogue Australia.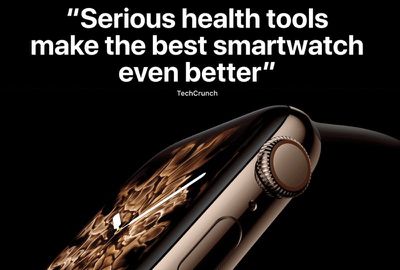 Women's Health, for example, said features in the Series 4 make it a powerful device for overall well being that could save your life one day.
"The new Apple Watch health and fitness features make it a powerful device for your overall well-being. That's because game-changing bells and whistles have elevated the Apple Watch Series 4 from an investment-worthy health accessory to a sleek and beautiful device that actually might save your life."
The New York Times said the new model, which can take an ECG reading, is "one of the most significant developments in wearable gadgets in years," while The Independent said the speed improvements and new health features are noticeable "at every level."
"The design is just gorgeous and the bright, vivid display with its narrow, curved bezels, looks sensational. The uptick in performance power is noticeable at every level and the increased health qualities and fitness monitoring are hugely welcome. If you've held back from getting an Apple Watch because you thought it wasn't quite there yet, well, it is now."
Apple, of course, only focused on pulling out positive commentary on the Apple Watch Series 4 models, but reviews for the device were largely positive. Some reviewers didn't think it offered enough to entice Series 3 owners to upgrade, but said that it's more than worthwhile for anyone upgrading from an earlier Apple Watch model.
Anyone who has been considering holding out on purchasing an Apple Watch due to a lack of features or slow performance should also consider checking out the Apple Watch Series 4, according to reviewers, because it is faster, more efficient, and more feature rich than previous models.
Apple's full list of review selections can be seen in the article shared via Apple Newsroom, and more reviews can be found in our review roundup, shared this morning.
The Apple Watch Series 4 will be available starting this Friday, September 21. Customers who pre-ordered a device last week will begin receiving their orders on that day, and those who were not able to secure a pre-order may be able to purchase an Apple Watch from a retail store on launch day.
At this point in time, new Apple Watch Series 4 orders will not begin shipping out until October.