Apple Watch Series 4 Reviews: Larger Screen is 'Incredibly Good', Upgrading From Series 0 or 1 a 'No Brainer'
The first reviews of the Apple Watch Series 4 have been published online today, just a couple of days before the new smartwatch is available in stores.
The Apple Watch Series 4 features a new design with a slimmer body, a 30 percent larger display, and electric sensors for taking ECG readings. Despite the larger displays, the Series 4 has a thinner, smaller case.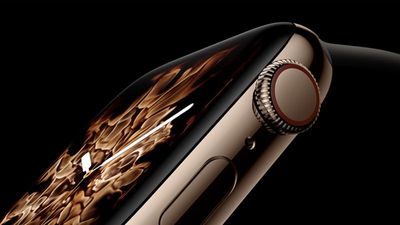 All Apple Watch Series 4 models feature a black ceramic and sapphire crystal backing, and the Digital Crown includes haptic feedback for what Apple says is a more mechanical, responsive feel. Inside, the Apple Watch features a faster, more efficient S4 chip that offers twice the speed.
With all that in mind, several reviewers have been trying out Apple's new smartwatch for five days, and most of them agree that while the Series 4 model is a great smartwatch, it "isn't the kind of refresh that justifies upgrading from the last generation," as TechCrunch's Brian Heater puts it.
Likewise, iMore's Rene Ritchie thinks Series 3 owners looking to vindicate the purchase will "have to really want the new capabilities, never mind the new design," although he thinks that upgrading from a Series 0 or Series 1 is a "no brainer" and Series 2 owners will also find the new model "compelling".
In terms of design and wearability, Heater found that the Series 4's larger, wider case was "not really noticeable unless you happen to have two side-by-side," although for those who have used an earlier model with any regularity, "the increase in surface area is pretty readily apparent."
The Verge
's Dieter Bohn found that the difference between a 42mm Series 3 and the Series 4's 44mm size is "only subtly bigger" and "feels about the same." However,
Wired
's Scott Rosenfield found more of a difference when actually interacting with the device:
The watch still looks like a watch. But in practice, the larger screen feels as significant as going from the iPhone 5 to the iPhone 6. The rounded edges and thinner bezel give you substantially more screen space, which make it easier to read and tap.

That changed how I used the watch: I crammed in more complications on each watch face, and I found myself scrolling through texts, looking at heart rate and workout data, and even playing with the News and Photos apps in a way that I hadn't since the watch first launched.

TechCrunch's Heater took particular liking to the watch's new haptic Digital Crown, which "feels like turning a mechanical dial... And when there's nothing on screen to move by spinning it, the feedback simply shuts off." iMore's Ritchie concurred, noting that "the new clicking absolutely feels more precise and more fun to use."
The new watch faces were also a hit with Ritchie, who called the new Infographic (analog) and Infographic Modular faces "informational escalations that manage to be denser without sacrificing legibility."
You can fill them with communications apps and contacts, if you're running around playing secret agent. You can fill them with world clocks and trackers if you're traveling. You can fill them with fitness features if you're off to a workout. Or you can mix and match to best suit your average activities.
Elsewhere, Wired's Rosenfield came away impressed by the accuracy of the watch's new optical heart-rate sensor as well as the automatic workout detection, while noting that "runners will love the new rolling mile measurement, cadence, and target pace notifications."
The improvement in the Series 4's speaker was also particularly noticeable. The Verge's Bohn called it "way louder," while iMore's Ritchie said "everything from Siri to calls now boom... I can make out conversation from a good dozen feet away."
Speed-wise,
Wired
's Rosenfield felt the Series 4 was generally faster than previous models, although not as big a jump as with past iterations:
In everyday life, the Series 4 does feel snappier, but it doesn't feel to me to be as significant as the jump from the Series 2 to Series 3. The exception: I found the initial watch pairing process to be much faster with the Series 4 than with prior models.
Despite the speed improvements, the reviewers agreed that general battery life is largely unchanged from the Series 3 – TechCrunch's Heater felt that most users would be able to get through a day's use without worrying about finding a charger.
Reviewers were unable to test the ECG feature, which won't be available until later this year. Likewise, when it came to Fall Detection, Apple advised against trying to trick the Apple Watch Series 4 into thinking they have accidentally fallen, although Wired's Rosenfield couldn't resist: "I tried to trigger a false warning by tripping onto a yoga mat, jumping on the bed, and flailing around while attempting to powerlift. No dice."
Summing up, The Verge's Bohn concludes: "The Apple Watch has earned its place as the best-selling watch" and is "at least an order of magnitude better than other smartwatches and fitness trackers."
Other publications have shared Apple Watch Series 4 reviews that are worth a read. We've rounded up some links below and will add more when we find them.
Apple Watch Series 4 will go on sale, and begin arriving to customers, this Friday.