iPhone XS and XS Max Reviews: Not Dramatically Better Than iPhone X, Consider Waiting for iPhone XR
iPhone XS and iPhone XS Max reviews have hit the web, three days before the smartphones are released in stores.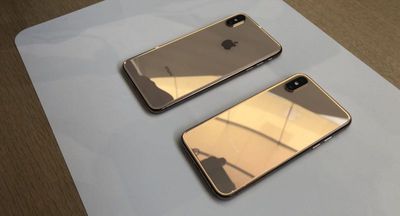 2018 is what is known as a "S" year—hence the XS branding—in which Apple retains the same physical design of the iPhone, for the most part, and instead focuses on internal improvements to the display, camera, performance, and so forth. Previous examples include the iPhone 4s, iPhone 5s, and iPhone 6s series.
Not only that, but Apple said last year's iPhone X set the standard for the next decade of the smartphone, with its premium design and nearly edge-to-edge display, leaving the iPhone XS and iPhone XS Max with big shoes to fill.
All that considered, let's dive in and see how they stack up.
After nearly six days of trying out the devices, many media outlets agree that the iPhone XS and iPhone XS Max are "evolutionary, not revolutionary," as Wired's Lauren Goode put it. TechCrunch's Matthew Panzarino went as far as labeling the smaller-sized iPhone XS as "one of Apple's most 'S' models ever."
That's not necessarily a bad thing. As in many "S" years, if you already own the previous-year's device—in this case the iPhone X—Panzarino said there are only "about a half-dozen definitive improvements" in the iPhone XS. But, for customers upgrading from an older iPhone, he said they'll be in for "a huge win."
As an upgrade over an iPhone X, I'd say you're going to have to love what they've done with the camera to want to make the jump. As a move from any other device, it's a huge win and you're going head-first into sculpted OLED screens, face recognition and super durable gesture-first interfaces and a bunch of other genre-defining moves that Apple made in 2017, thinking about 2030, while you were sitting back there in 2016.
In terms of specific features, The Verge's Nilay Patel has good impressions about Face ID, the rear camera, performance, battery life, and more. As he reminds readers, the only differences with the iPhone XS Max versus the smaller iPhone XS are its larger 6.5-inch display and longer battery life.
Patel on Face ID:
Other than the minor speed increase and secondary appearance support, Face ID is still Face ID: it doesn't work in landscape or upside down or anything like that. If you wear glasses like me, you'll still have to enter your passcode every morning when you wake up because you're holding the phone too close to your face for it to work. And sunglasses that block IR light will still prevent it from working — Apple says it's working with sunglass makers to ship new kinds of sunglasses that support Face ID.
On the rear camera:
The camera upgrades on the XS over the X are significant — the XS makes the X camera look terrible most of the time. But we've been saying the best smartphone camera on the market is Google's Pixel 2 for a year now, so that's the standard to beat. And… I think the Pixel 2 still has a better camera than the iPhone XS. Don't get me wrong — most people are going to like the photos they get out of the iPhone XS. It has a solid camera, and I prefer it to the Galaxy S9. But compared to the Pixel 2, the XS doesn't really do it for me.
Performance:
Last year's iPhone X had an A11 Bionic chip, and this year's iPhone XS has an A12 Bionic. In terms of CPU performance, the A12 really isn't that much faster: Apple only quotes a 15 percent performance improvement, and I didn't really see a noticeable speedup over my iPhone X.
Battery life:
I mostly tested the XS Max, and it did great — better than even Apple's claim of 90 minutes more than the X. In fact, I got a full 12 hours of battery life out of the XS Max without low power mode, and that's even under my heavy daily use of constant Slack and email usage, video watching, photo taking, and browsing. The smaller XS is rated to get 30 minutes more than the X, which has run for about 8 hours for me this past year. It's solid.
If you are a diehard Apple fan who can't wait to get your hands on the latest and greatest iPhone, you're probably going to choose the iPhone XS, or specifically the iPhone XS Max, regardless. For others, it may be best to wait until Friday, October 19, when the lower-priced iPhone XR becomes available to order.
iPhone XR is often described as the iPhone X for the rest of us. While reviews of the device are not out today, we know it has a nearly edge-to-edge display, Face ID, glass casing, wireless charging, and many other advantages of the iPhone XS, including new camera features such as Depth Control and Smart HDR.
CNET's Scott Stein:
Both the iPhone XS and XS Max are great phones, fantastic refinements and incredibly promising hubs for your super-connected universe. As you'd expect, they're the best iPhones at the moment. But here's the twist: That third new iPhone, the iPhone XR, may be the best pick for anyone upgrading from any iPhone other than the 2017 iPhone X.

It has many of the same features as the XS, but with a larger yet lower-resolution 6.1-inch LCD screen compared to the XS, and -- according to Apple -- better battery life. And it's $250 cheaper to start -- only $50 more than the iPhone 8's starting price this time last year.
The Wall Street Journal's Joanna Stern:
The new iPhone XS and XS Max are great phones but the XR, due out in October, sounds more like a great deal…

Imagine Goldilocks only tested the cold and hot porridges and never found the one that was "just right." Her life might have been entirely different. That's how I feel about testing the iPhone XS and XS Max—without the iPhone XR—for the past week…
Many other publications have shared iPhone XS and iPhone XS Max reviews that are worth a read. We've rounded up links below.
iPhone and iPhone XS will go on sale, and begin arriving to customers, this Friday. For those who decide to wait for the iPhone XR, reviews of that device will likely hit the web a few days before its October 26 release date.