Apple Highlights iPhone XS and iPhone XS Max Reviews
Reviews for the iPhone XS and the iPhone XS Max went live this morning ahead of Friday's launch, and in a new press release, Apple has highlighted reviews from several members of the media who were able to spend some time with the new iPhones.
Apple shared key passages from sites that include Mashable, TechCrunch, Daring Fireball, The New York Times, Best Products, Hypebeast, Tom's Guide, Dailymail, TechRadar, Hardwarezone, Sydney Morning Herald, and photographer Austin Mann.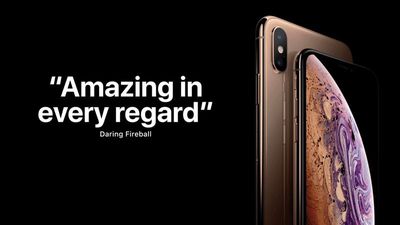 Daring Fireball's John Gruber, for example, praised the iPhone's custom silicon and software and its always-in-your-pocket convenience for photography.
"iPhones can't compete with big dedicated cameras in lens or sensor quality. It's not even close. The laws of physics prevent it. But those traditional camera companies can't compete with Apple in custom silicon or software, and their cameras can't compete with iPhones in terms of always-in-your-pocket convenience and always-on internet connectivity for sharing. In the long run, the smart money is to bet on silicon and software."
The New York Times praised the way Apple increased the iPhone XS Max's screen size without adding bulk or compromising usability, while Tom's Guide did some benchmarking on the A12 and declared the iPhone XS models the fastest iPhones available.
"[To transcode a 2-minute 4K video to 1080p,] iPhone XS and iPhone XS Max knocked it down further to 39 seconds. ... The Galaxy S9+ took 2 minutes and 32 seconds to complete the task, and that's the fastest we've seen from an Android phone. ... Based on our testing, the A12 Bionic processor inside the iPhone XS and iPhone XS Max make these the fastest phones you can buy."
Apple, of course, focused on the positive elements in these reviews and while reviewers did generally offer praise for the iPhone XS and iPhone XS Max, especially for the camera improvements and the larger screen size, most agreed that iPhone X users may not be tempted to upgrade just for a new processor and a better camera.
Apple's full list of review selections can be seen in the article shared via Apple Newsroom. More reviews can also be found in our review roundup, shared this morning.
Customers who pre-ordered an iPhone XS or iPhone XS Max will be able to get their hands on the new devices starting on Friday, September 21, the official iPhone XS and XS Max launch date.