Apple Leaks New Apple Watch Sizes Coming in 40mm and 44mm
Apple is facing a series of leaks in the hours ahead of its "Gather Round" event at Apple Park in Cupertino, California, and this time information about the new version of Apple Watch has been revealed. According to AllThingsHow, Apple udpated its sitemap files ahead of the event, which included links to Apple Watch in new 40mm and 44mm sizes.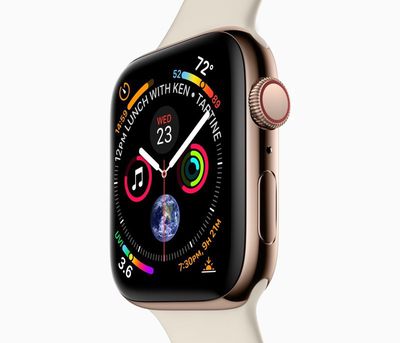 These are believed to be the new Apple Watch models about to be announced later today, although they don't carry a "Series 4" designation in the sitemap and are simply called "Apple Watch." The sizes include both GPS and GPS + Cellular configurations, and include the colors Silver, Space Gray, and Gold.
In 40mm, there's also a few Nike and Hermès options. Hermès includes an Indigo Craie Orange Double Tour band with a Stainless Steel case, and Nike has Pure Platinum Black Sport Band, Summit White Sport Loop, Anthracite Black Sport Band, and Black Sport Loop paired with various aluminum cases.


These new sizes appear to be upgrades from the previous generation of case sizes, with Apple increasing the cases from 38mm to 40mm for the small size and from 42mm to 44mm for the large size. Apple measures these cases vertically. In terms of width, the current 38mm Apple Watch is 33.3mm wide and the 42mm Apple Watch is 35.9mm wide.
The 40mm and 44mm sizes roughly align with a prediction made by analyst Ming-Chi Kuo in July, who stated Apple would reveal two models measuring in at around 39.9mm and 45.2mm.
The upcoming Apple Watch's big new feature will be a display that's 15 percent larger, thanks to reduced bezels and likely the slightly increased case size. In a leak a few weeks back, we got a glimpse at a new watch face for Apple Watch, including one that had space for as many as eight complications.