Apple's Beats by Dre Brand Announces NBA Partnership
Beats by Dr. Dre, Apple's well-known headphones brand, today announced a marketing and merchandising partnership with the NBA, which will make it the official headphone, wireless speaker, and audio partner of the NBA, and sister associations WNBA, NBA G League, and USA Basketball as of October 2018.
Under the terms of the partnership, which will span multiple years, Beats will establish separate deals with NBA teams to launch audio products for NBA fans, including NBA team-branded headphones.
Apple is aiming to boost Beats by Dre brand recognition through the NBA deal by leveraging NBA stars that include LeBron James, Draymond Green, James Harden, Ben Simmons, Jayson Tatum and Karl-Anthony Towns.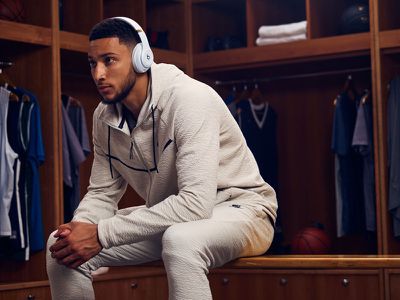 Luke Woods, Beats by Dr. Dre president, said that the company's partnership with NBA is the "perfect alignment," an unsurprising statement given that Beats has long used major athletes to advertise its headphones, even prior to the purchase by Apple.
"The NBA and its players have long been significant drivers of global culture. Basketball, music, and style speak as one voice: Julius Erving became a style icon, Allen Iverson cemented hip hop's place on and off the court and LeBron James is breaking new music every day... the list goes on and on," said Luke Wood, President of Beats by Dr. Dre. "This partnership with the NBA is the perfect alignment for Beats. It feels like coming home."
In addition to developing NBA-themed headphones for fans, Beats also plans to provide headphones to players and advertise during major events like the NBA All-Star, NBA Draft, international games, WNBA games, and more.
The Beats NBA partnership will kick off in October, which is when the 2018-2019 NBA season will begin.