TSMC Expected to Remain Exclusive Supplier of 'A13' Chip Orders for 2019 iPhones
Taiwanese manufacturer TSMC will likely remain Apple's contract chipmaker next year, as the exclusive supplier of "A13" chips for 2019 iPhones, according to industry analysts cited in a report by the EE Times.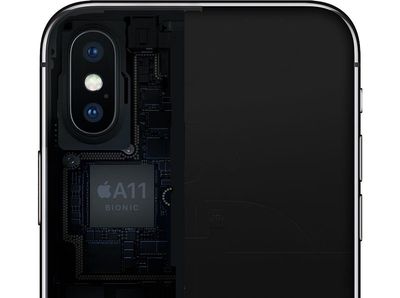 "As long as TSMC continues to offer something new at leading-edge every year and continues to execute well on yield, I could see Apple remaining sole source on foundry at TSMC for years to come," Arete Research analyst Brett Simpson said in an interview with EE Times.
TSMC has been Apple's exclusive supplier of A-series chips since 2016, fulfilling all orders for the A10 Fusion chip in the iPhone 7 and iPhone 7 Plus, and the A11 Bionic chip in the iPhone 8, iPhone 8 Plus, and iPhone X. Multiple reports indicate TSMC will also be the exclusive supplier of the "A12" chip in 2018 iPhones.
TSMC's packaging offerings are widely considered to be superior to that of other chipmakers, including Samsung and Intel, so it won't be surprising if that exclusivity continues with the "A13" chip in 2019.
TSMC has been gradually shrinking the size of its dies over the years as it continues to refine its manufacturing process: A10 Fusion is 16nm, A11 Bionic is 10nm, and this year's "A12" is expected to be a 7nm chip. The "A13" will likely be a 7nm+ chip with extreme ultraviolet lithography (EUV), with volume production expected to begin in the second quarter of 2019, in time for a fall iPhone launch next year.
Beyond that, TSMC recently confirmed that it plans to invest $25 billion towards volume production of 5nm chips by 2020, so there's a good chance that Apple will rely on the Taiwanese chipmaker for the foreseeable future.
TSMC's favor with Apple comes at the expense of Samsung, which was the exclusive manufacturer of iPhone processors for many years, starting with the ARM11 chip in the original iPhone through to the A7 chip in the iPhone 5s. TSMC manufactured the A8 chip in 2014, and TSMC and Samsung shared A9 chip orders in 2015.
Samsung isn't backing down easily, however, as DigiTimes last month reported that the South Korean company is developing its own InFO packaging technology. Samsung claims to have outpaced TSMC in kicking off official production of 7nm+ with EUV, seeking to win back orders from Apple in 2019.
As far as how this all impacts customers, Apple's industry-leading mobile chip designs and TSMC's continued packaging advancements are beneficial for the performance, battery life, and thermal management of future iPhones.