Verizon Subscribers With Unlimited Plan Can Now Sign Up for Six Free Months of Apple Music
Verizon and Apple last week announced a partnership that provides six free months of Apple Music service to new and existing customers with a Verizon Unlimited plan, and as of today, Verizon customers can sign up for their free Apple Music subscriptions.
Verizon subscribers who have an unlimited plan can visit the Apple Music section on the Verizon website to begin the sign up process. Logging in with a Verizon subscriber account is required, and from there, customers will receive a text message with a link that needs to be opened on a mobile device.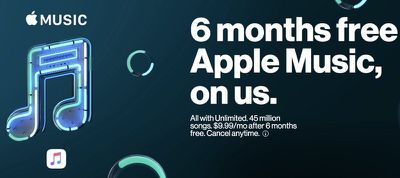 For iPhone and Android users that already have the app installed, it will open it up with subscription options. If the app isn't already installed, the App Store or Google Play store will open with instructions to download the app.
Apple Music is available to all Verizon Unlimited subscribers, including Verizon Plan Unlimited, Go Unlimited, Beyond Unlimited, and Above Unlimited. Customers who have one of Verizon's original Unlimited plans (from earlier this year) can also sign up, and there have been some reports from Reddit users that other Verizon subscribers have been presented with the offer.


Verizon customers who already subscribe to Apple Music can activate the free trial offer, but will be prompted to cancel their existing Apple Music subscriptions through Apple to avoid double billing.


Apple Music subscribers who recently renewed will want to wait for a few weeks to activate their Verizon trials to make sure to get the full six months of free service. Annual subscribers may be able to cancel via Apple and get a prorated refund.
Each individual Verizon line is able to sign up for a free Apple Music trial, but it does not work with the family plan. Customers with an existing Apple Music family plan will need to cancel it, with each person in the family signing up for the free Verizon trial separately. The same goes for current student plans -- cancel with Apple and resubscribe through Verizon to get the free six months.
It appears the Apple Music subscriptions will be billed through Verizon following the conclusion of the six month trial rather than through iTunes like a standard Apple Music subscription.


Customers who sign up for the six month free trial and who do not want to pay for a subscription afterwards can cancel at any time, including right after signing up. Access to Apple Music remains available for the full six month period after cancelling through Verizon.
Subscriptions redeemed today will expire in February 2019.