Samsung Debuts New Galaxy Note 9, Galaxy Watch, Wireless Charger Duo, and Galaxy Home Smart Speaker
Samsung this morning debuted its latest flagship smartphone, the new Galaxy Note 9. The Galaxy Note 9 is equipped with a 6.4-inch 2960 by 1400 Super AMOLED screen, and like previous Note models, it works with the S Pen stylus. Design wise, it looks quite similar to the Note 8.
Inside, the Galaxy Note 9 features Qualcomm's Snapdragon 845 processor, 6 to 8GB RAM, dual AKG speakers, and a 4,000 mAh battery. Samsung is using the same 12-megapixel dual-aperture camera system it used in the Note 8, with the addition of an Intelligent Camera function that's able to detect what you're taking a photo of.
Samsung says that with the Snapdragon 845, it has included "Water Carbon Cooling System" inside the phone for improved performance with processor intensive apps such as Fortnite.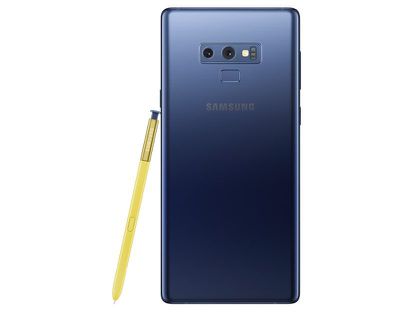 The S Pen that comes with the Galaxy Note 9 introduces new Bluetooth-enabled features that allow it to be used to control the camera of the device for taking selfies and other photos, control video playback, and more. Samsung has created an SDK that will let developers integrate the S Pen into their apps, and that will be available later this year.


The Galaxy Note 9 works with DeX, Samsung's feature that allows a smartphone to be docked to a desktop and used with a mouse and keyboard. The Note 9 DeX implementation does not require a dedicated dock, instead using a USB-C to HDMI adapter.
The smartphone also features a USB-C port, a headphone jack, a front-facing iris scanner, and a fingerprint reader that's centered at the back of the device. Though Google just introduced Android 9 Pie, the Note 9 will come with Android 8.1.
Samsung is pricing its Galaxy Note 9 at $1,000, the same price as the iPhone X, with the entry-level model coming with 128GB of storage and 6GB RAM. A version with 8GB RAM and 512GB of storage will be priced at $1,300. Pre-orders for the Galaxy Note 9 start tomorrow ahead of an August 24 launch.
Alongside the Galaxy Note 9, Samsung introduced the new Galaxy Watch, an LTE-enabled device that's been designed to look like "a real watch" with a circular face and bezel that doubles as a control unit. It offers up Corning's DX+ glass and better battery life than previous Samsung smart watches, with Samsung claiming that it will last several days on one charge.


Much like the Apple Watch, it offers a breathing guide to calm you down, heart rate monitoring, Bixby support, 39 workout types for fitness, and it's able to detect six common exercises automatically. Unlike the Apple Watch, though, the Galaxy Watch tracks sleep quality.


To charge the Galaxy Note 9 and the Galaxy Watch, Samsung has introduced an AirPower-like Wireless Charger Duo that's able to charge the watch and the phone at the same time.


Samsung is also getting into the smart speaker market with the Bixby-enabled Galaxy Home, which is designed to compete with Amazon Echo, Apple HomePod, Google Home, and other smart speaker options on the market. Galaxy Home works with Bixby, and Samsung says that its design is able to send sound in every direction.


For Galaxy Home and across Samsung's other devices, Samsung has teamed up with Spotify for a "true cross-listening experience" that lets Spotify be used seamlessly across Samsung devices. Spotify will be part of the setup process on all Samsung devices, including Samsung smartphones, the Galaxy Home, and Samsung Smart TVs, with Bixby integration coming to Spotify.