Qualcomm Announces First Fully-Integrated 5G Millimeter Wave Antenna Module
Qualcomm today announced the launch of what it says are the world's first fully-integrated 5G millimeter wave and sub-6 GHz RF modules for smartphones and other devices, with the new 5G mmWave antenna combining a 5G millimeter wave radio, power amplifier for signal boosting, and antenna array, all in a package that's small enough to fit on a fingertip.
Qualcomm's QTM052 mmWave antenna module family and its QPM56xx sub-6GHz module family are designed to pair with the previously announced Qualcomm Snapdragon X50 5G modem to pave the way for smartphones and other devices able to take advantage of 5G networks.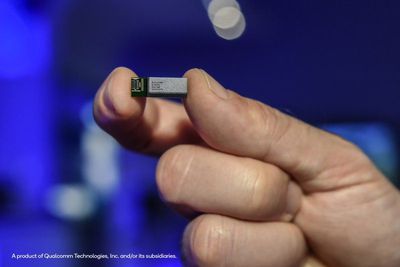 "Today's announcement of the first commercial 5G NR mmWave antenna modules and sub-6 GHz RF modules for smartphones and other mobile devices represents a major milestone for the mobile industry. Qualcomm Technologies' early investment in 5G has allowed us to deliver to the industry a working mobile mmWave solution that was previously thought unattainable, as well as a fully-integrated sub-6 GHz RF solution.
The new 5G mmWave antenna modules are designed to fit in the bezel of a smartphone and the idea is to put multiple antenna modules (up to four) into different locations in the bezel so a 5G signal can be received even if one of the antennas is covered up by a hand or blocked by something in the environment, as is common with the way millimeter wave signals work.
This design also boosts signal that's received, with the device able to choose the module receiving the strongest signal and swap between them seamlessly for a reliable 5G connection. Up to 800MHz of bandwidth in the 26.5-29.5 GHz, 27.5-28.35 GHz, and 37-40 GHz mmWave bands is supported.


In technical terms, QTM052 mmWave antenna modules support advanced beam forming, beam steering, and beam tracking technologies for improved range and reliability.
Millimeter wave technology is ideal for dense urban areas and crowded indoor environments, but broad 5G coverage requires the sub-6GHz spectrum bands, which is what Qualcomm's new QPM56xx RF module family addresses. This includes the new QPM5650, QPM5651, QDM5650, and QDM5652 modules.
Qualcomm says the first 5G millimeter wave antenna modules are being shipped out to customers this week, and the first crop of devices able to take advantage of 5G networks will be released late this year.


Mobile hotspots are likely to be the first accessories to include Qualcomm's technology, but the company says that we can expect Android smartphones with this 5G millimeter wave antenna during the first half of 2019. 5G devices require 5G networks, which carriers are working on.
T-Mobile is building out its 5G network with plans to roll it out to 30 cities this year, AT&T plans to deploy 5G to customers in a dozen cities in 2018, and Verizon plans to activate fixed 5G services in Sacramento in late 2018, with a mobile 5G service to launch approximately six months later.
As announced at Mobile World Congress, Qualcomm is partnering with more than 20 electronics manufacturers who will use its 5G technology, including Asus, Fujitsu, Nokia, HTC, LG, Oppo, ZTE, Xiaomi, OnePlus, Vivo, and more.
Apple is not a known Qualcomm partner and it is not clear if the two companies will work out their differences given the intense legal battle that is going on between the two. When asked whether Apple would potentially choose this technology for future iPhones, Qualcomm said it was not able to comment on that.
Little is known about Apple's 5G plans at the current time, but November rumors suggested Apple was "leaning heavily" towards using Intel's 5G modems in future iPhones, with Apple engineers already working with Intel on 5G technology.
That report, from Fast Company, suggested at the time that Apple's discussions with Qualcomm have been "limited." Other reports have suggested Apple is considering eliminating Qualcomm chips from future iPhones and iPads, and this year, it looks like Intel will be supplying the majority of chips needed for the 2018 iPhone lineup.