Apple Updates Leadership Page to Include New AI Chief John Giannandrea
Apple today updated its Apple Leadership page to include John Giannandrea, who now serves as Apple's Chief of Machine Learning and AI Strategy.
Apple hired Giannandrea back in April, stealing him away from Google where he ran the search and artificial intelligence unit.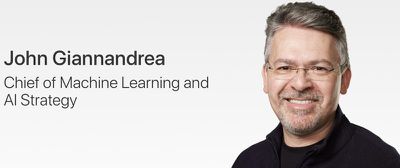 Giannandrea is leading Apple's AI and machine learning teams, reporting directly to Apple CEO Tim Cook. He has taken over leadership of Siri, which was previously overseen by software engineering chief Craig Federighi.
Apple told TechCrunch that it is combining its Core ML and Siri teams under Giannandrea. The structure of the two teams will remain intact, but both will now answer to Giannandrea.
Under his leadership, Apple will continue to build its AI/ML teams, says TechCrunch, focusing on general computation in the cloud alongside data-sensitive on-device computations.
Giannandrea spent eight years at Google before joining Apple, and before that, he founded Tellme Networks and Metaweb Technologies.
Apple's hiring of Giannandrea in April came amid ongoing criticism of Siri, which many have claimed has serious shortcomings in comparison to AI offerings from companies like Microsoft, Amazon, and Google due to Apple's focus on privacy.
In 2018, Apple is improving Siri through a new Siri Shortcuts feature that's coming in iOS 12, which is designed to let users create multi-step tasks using both first and third-party apps that can be activated through Siri.