2018 iPhones Said to Feature Both Embedded Apple SIM and Traditional SIM Card Tray
At least one of Apple's widely rumored trio of new iPhones expected to be unveiled this September will feature dual-SIM, dual-standby, according to Chinese news publication 21st Century Business Herald via LoveiOS.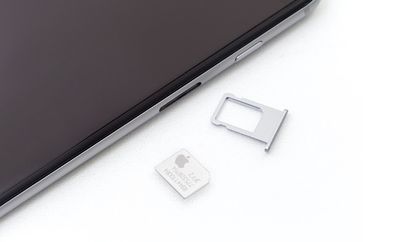 A translated version of the article claims the functionality will be enabled by an embedded Apple SIM in the iPhones, in addition to a traditional SIM card placed into the usual tray. In China, where Apple SIM is not available, the report claims Apple will offer an iPhone with two physical SIM card trays.
Apple introduced its Apple SIM in 2014 to provide cellular iPad users with a convenient way to switch between carriers and use short-term data plans as needed, useful for those who travel between countries frequently. It works with select carriers in more than 180 countries and regions around the world.
Initially, the Apple SIM was only available as a physical card that needed to be inserted into the tray when needed, but it is now embedded inside the latest iPad Pro models. Apple still sells physical Apple SIMs at its retail stores in many countries for use with the lower-cost 9.7-inch iPad and other models.
The report doesn't specify which of the 2018 iPhones will have an embedded Apple SIM, but Apple analyst Ming-Chi Kuo has previously said the 6.1-inch "budget iPhone X" and 6.5-inch "iPhone X Plus," but oddly not the second-generation 5.8-inch iPhone X, will support dual-SIM, dual-standby.
Kuo has also said Apple may release two 6.1-inch iPhone models, and in light of today's report, this could be referring to a nearly-worldwide variant with an embedded Apple SIM and a Chinese variant with dual SIM card trays.
All in all, it should be easier to switch between carriers and data plans on future iPhones, providing users with more flexibility.