New Cellular iPads Include 'Apple SIM' in U.S. and U.K. for Multi-Carrier Compatibility
Historically, users purchasing cellular versions of iPads have had to choose their carrier at the time of purchase, with Apple shipping a device specifically configured for use on that carrier. But with the iPad Air 2 and iPad mini 3, Apple is launching a new "Apple SIM" included with devices purchased in the United States and United Kingdom.
For U.S. users in particular, the Apple SIM allows users to easily move among AT&T, T-Mobile, and Sprint by taking advantage of short-term data plans as needed. And with EE participating in the UK, even access while abroad is simplified. And of course the system should work equally well for UK customers traveling abroad to the United States.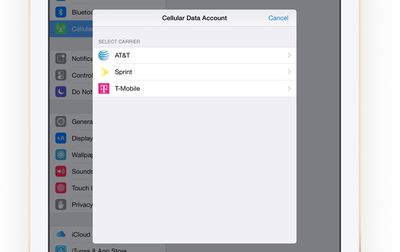 Apple outlines the Apple SIM on its iPad Air 2 wireless feature page:
One SIM. Many options.

The new Apple SIM is preinstalled on iPad Air 2 with Wi-Fi + Cellular models. The Apple SIM gives you the flexibility to choose from a variety of short-term plans from select carriers in the U.S. and UK right on your iPad. So whenever you need it, you can choose the plan that works best for you — with no long-term commitments. And when you travel, you may also be able to choose a data plan from a local carrier for the duration of your trip.
Apple notes in an explanatory pop up on its iPad Air 2 store page that Verizon is not a participating carrier and Verizon customers will need to visit Verizon stores to activate cellular service on their devices.