Bethesda Sues Warner Bros for Copying Fallout Shelter With New Westworld iOS Game
Warner Bros' new Westworld game for mobile devices is a "blatant rip-off" of Bethesda game Fallout Shelter, according to a lawsuit Bethesda filed in a Maryland U.S. District Court this week.
At issue are the similarities between the two games. In Fallout Shelter, which was first released in 2015, you run an underground bunker in the Fallout universe, directing your bunker inhabitants to build and run new facilities, go out on expeditions, and more, with the ultimate goal of building up the bunker.
Westworld, based on the popular HBO show and released this week, uses a similar concept, with an underground Delos facility that players are required to build out to create AI hosts and satisfy guests in the park. The ultimate goal is to build up your underground Westworld facilities along with the above-ground park.
In the lawsuit, which was shared by
Polygon
, Bethesda accuses Warner Bros and game developer Behaviour Interactive of breach of contract, copyright infringement, unfair competition, and misappropriation of trade secrets. Behaviour Interactive worked on both Fallout Shelter and Westworld.
The Westworld game, says Bethesda, uses the same game design, art style, animations, and features as Fallout Shelter, in addition to stealing copyrighted computer code created for Fallout Shelter. As evidence for this, Bethesda claims Westworld has a unique bug that was also found in early builds of Fallout Shelter.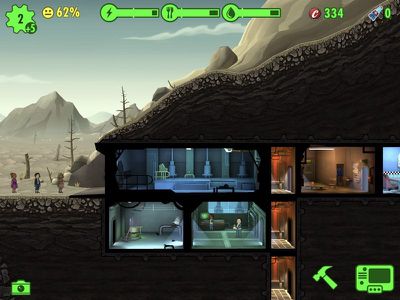 Fallout Shelter


According to Bethesda, Behaviour Interactive utilized its restricted access to Bethesda's intellectual property, including copyrighted code, to reduce costs and development time to bring Westworld to market faster.
The Westworld game is a blatant rip-off of FALLOUT SHELTER. Working with the same copyrighted computer code used by FALLOUT SHELTER, Westworld has the same or highly similar game design, art style, animations, features and other gameplay elements as FALLOUT SHELTER, all of which are owned by Bethesda.

Behaviour's breach of its contract with Bethesda is evidenced by the gameplay of Westworld, which uses the same copyrighted computer code created for Bethesda's FALLOUT SHELTER game. Behaviour's use of the computer code owned by Bethesda to develop Westworld even included the very same 'bugs' or defects present in the FALLOUT SHELTER code.
It's impossible not to see the similarities between Fallout Shelter and Westworld, and as is pointed out in the lawsuit, several reviews and stories on the Westworld game that have come out over the last few months have noted those similarities. VentureBeat, for example, said in March that the "side-view user interface looks a lot like Fallout Shelter," while ShackNews said "Westworld mobile is definitely taking a page out of the Fallout book," during the same timeframe.

Westworld


In light of the alleged intellectual property theft, Bethesda has asked the court for a jury trial, statutory damages, and actual damages, along with restitution and lawyers fees and costs. The company is also asking for every version of the Westworld mobile game to be removed from distribution.