Apple Gives Straight-to-Series Order for Drama on Child Journalist Hilde Lysiak
Apple has placed a straight-to-series order for a drama series about Hilde Lysiak, a child journalist who publishes a newspaper called the Orange Street News in her hometown of Selinsgrove, Pennsylvania.
According to Variety, the series will follow a young girl who moves from Brooklyn to the small lakeside town her father is from, where she unearths a cold case that everyone in town had attempted to bury.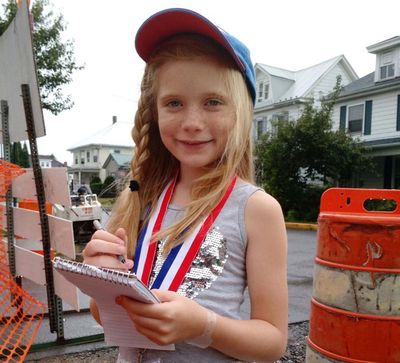 The story is based on Lysiak's own efforts to report on a murder in Selinsgrove, where she was the first person to expose it. Lysiak's Orange Street News has earned her national and international
media attention
.
Apple has ordered 10 episodes of the series, which was created and executive produced by Dana Fox and Dara Resnik. Fox is known for her work on "Ben and Kate," "How to Be Single," and "Couples Retreat," while Resnik has worked on "Castle," "Shooter," and Mistresses."
Apple has well over a dozen original television shows in the works now, which, according to rumors, could begin premiering in 2019. Recent announcements include "Little Voices" from J.J Abrams and Sara Bareilles, "Dickinson" starring Hailee Steinfeld, and a television adaptation of Isaac Asimov's "Foundation" series.