iOS 11.4 Launches Today With AirPlay 2 and Messages in iCloud, HomePod Gets Multi-Room Audio, Stereo Pairing
Apple has announced that iOS 11.4 will be publicly released today with long-awaited support for AirPlay 2 and Messages in iCloud.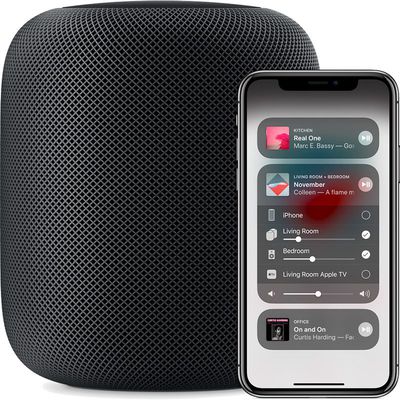 iOS 11.4 should be available over-the-air and through iTunes shortly after 10:00 a.m. Pacific Time, likely alongside tvOS 11.4, macOS 10.13.5, and watchOS 4.3.1, following nearly two months of beta testing. A companion software update for HomePod will also be pushed out automatically and through the Home app.
The software will enable multi-room audio with HomePods, Apple TVs, and other AirPlay 2-enabled speakers when they become available, including the Sonos One, Playbase, and Play:5, and models from Bang & Olufsen, Bluesound, Bose, Bowers & Wilkins, Denon, Libratone, Marantz, Marshall, Naim, and Pioneer.
Multi-room audio support will enable users to play music in any room, from any room, move music from one room to another, or play the same song everywhere using an iOS device, HomePod, Apple TV, or by asking Siri.
AirPlay 2 will also enable stereo pairing of multiple HomePods. Using spatial awareness to sense their location in the room, each HomePod automatically adjusts the audio to sound as optimal as possible, according to Apple:
With an A8 chip in each speaker, each HomePod is able to play its own audio channel — left or right — while separating out both the ambient and direct energy. This innovative stereo sound provides a wide, almost three dimensional soundstage for an incredible listening experience anywhere in the room. A HomePod stereo pair creates room filling sound with greater bass extension, resulting in a deeper, more accurate reproduction of low frequencies.
AirPlay 2 playback and volume controls are available across iOS within any app and in Control Center. On iOS 11.4, users can also ask Siri to play music in any room, a group of rooms, or everywhere in the home.
While not mentioned in Apple's press release, The Verge notes that iOS 11.4 will include support for Messages in iCloud, keeping all iMessages and preferences synced across devices. If you delete a message on your Mac, for example, it will also be deleted on your iPhone and other devices signed into the same Apple ID.
The Verge also said the HomePod is gaining calendar support for Siri, so you can add events to your calendar, ask when and where your meetings are, and so forth. The feature is said to work with any calendar you add to the standard Calendar app on iOS, as part of the HomePod's personal request feature.
AirPlay 2 and Messages in iCloud were introduced as key new features in iOS 11 at WWDC 2017, but neither were included in the public release version last September, and never returned for good. Multi-room audio and stereo pairing are also delayed features that were supposed to be available when the HomePod launched.