Apple Adopting OLED Displays for All Three 2019 iPhones
As Apple continues its shift from LCD to OLED technology for its iPhones, reports have indicated that two out of the three iPhone models planned for launch around the usual September timeframe this year will offer OLED displays – a second-generation iPhone X and a larger "iPhone X Plus." The lowest-cost option is said to be a new 6.1-inch model with a similar full-face display as seen on the iPhone X, but it will reportedly be an LCD rather than OLED display.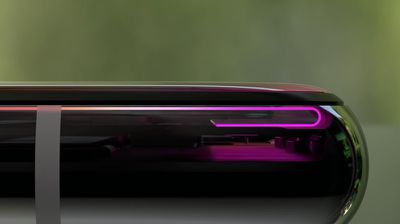 Apple's iPhone X promotional video highlighting flexible OLED display
Previous rumors have suggested Apple will complete its transition to OLED in 2019, with all models adopting the technology. A new report from South Korea's
ET News
is now
adding its voice to the claim
[
Google Translate
] based on information from its sources.
"Apple recently started planning the iPhone model in 2019 and decided to adopt OLED in all three types," said an official from Apple who said, "The OLED used in the iPhone X (TEN) is a low temperature polysilicon (LTPS) LCD Quality, performance, and so on. "

Another official said, "Apple has decided to put all the OLED on the new iPhone model in 2019." If the new model is more than three kinds, the LCD model may be maintained. However.
While this isn't the first time we've heard this rumor and it does make sense based on Apple's trajectory, it appears the financial markets are taking this specific rumor fairly seriously. Reuters notes that shares of Japan Display fell as much as 20 percent today on the news (though they have recovered somewhat and are now down 10 percent), while Bloomberg points out that Sharp's shares fell 4 percent.
Japan Display is currently an LCD display supplier for the iPhone, and while it is moving to develop OLED technology, it will only just be starting up in 2019. That timing and lack of experience will make it difficult for Japan Display to compete against Samsung and other OLED vendors that are further along with the technology.
Samsung is currently the sole OLED display supplier for the iPhone X, but Apple has reportedly invested billions of dollars to help LG get up and running with the technology, and LG has been rumored to be the supplier for this year's "iPhone X Plus."