Apple's Everyone Can Code Curriculum Expanding to Schools Serving Blind and Deaf Students
Apple today on Global Accessibility Awareness Day announced that its Everyone Can Code curriculum is expanding to schools serving deaf, blind, or visually impaired students, starting with various locations in the United States in the fall.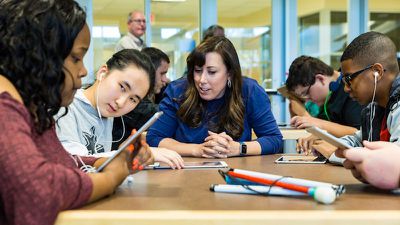 Initial list of participating schools:
California School for the Blind (Fremont, CA)

California School for the Deaf (Fremont, CA)

District 75/Citywide Programs (New York, NY)

Florida School for the Deaf and the Blind (St. Augustine, FL)

Hadley Institute for the Blind and Visually Impaired (Winnetka, IL)

Perkins School for the Blind (Watertown, MA)

Texas School for the Blind and Visually Impaired (Austin, TX)

Texas School for the Deaf (Austin, TX)
Everyone Can Code enables students of all ages to learn how to code with Apple's open source programming language Swift. The curriculum involves the iPad app Swift Playgrounds, which lets students use real code to solve puzzles and control characters, and the iBooks course App Development with Swift.
Apple is celebrating Global Accessibility Awareness Day by making coding more inclusive for students across the country. Because when we say Everyone Can Code, we mean everyone. #GAAD https://t.co/Ew16JtxzJh — Tim Cook (@tim_cook) May 17, 2018
Apple has tailored Everyone Can Code to work with its accessibility features, ranging from its screen-reading technology VoiceOver to Switch Control, which enables switches, joysticks, and other adaptive devices to control what is on the screen.
Apple collaborated with engineers, educators, and programmers from various accessibility communities to make Everyone Can Code as accessible as possible and will work in close coordination with schools to augment the curricula as needed. This will include providing additional tools and resources such as tactile maps to enhance the understanding of coding environments for non-visual learners.
Apple CEO Tim Cook:
Apple's mission is to make products as accessible as possible. We created Everyone Can Code because we believe all students deserve an opportunity to learn the language of technology. We hope to bring Everyone Can Code to even more schools around the world serving students with disabilities.
Bill Daugherty, superintendent at the Texas School for the Blind and Visually Impaired, offered praise for the initiative:
Our students were tremendously excited at our first Everyone Can Code session earlier this year. There are more than 10,400 students with visual impairments in Texas, and the development of this curricula is going to be a big step in opening up coding opportunities for our students and those across the nation.
Apple also announced that, throughout May, all of its retail stores will host accessibility-related sessions for customers. On May 17, Apple's corporate offices in Cupertino, Austin, Cork, and London will hold similar events.
Apple has also
revamped the accessibility section of its website
for Global Accessibility Awareness Day, which has promoted digital accessibility and inclusion for people with all disabilities on the third Thursday of May every year since 2012.