Apple Has Fully Restored Inventory of Mid 2012 and Early 2013 MacBook Pro Batteries
Following over a year of shortages, Apple has fully replenished its supply of top case assemblies with glued-in batteries for Mid 2012 and Early 2013 models of the 15-inch MacBook Pro with Retina display.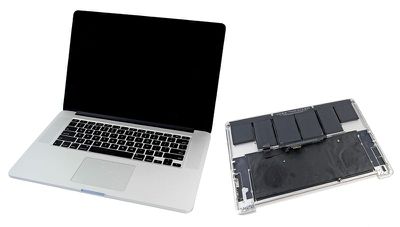 Mid 2012 MacBook Pro and its top case with battery via iFixit
A top case is the aluminum enclosure that houses the keyboard, trackpad, and speaker grilles on a MacBook Pro. For the two aforementioned models, the battery is affixed to the underside of the top case with strong adhesive, meaning the entire assembly needs to be swapped out for a simple battery replacement.
Now that inventory of the top cases is widely available again, Apple is "no longer offering free, delayed repairs" to customers with new service orders, according to its internal memo distributed to Apple Stores and Apple Authorized Service Providers on Tuesday and obtained by MacRumors from a reliable source.
Instead, Apple has resumed charging its standard out-of-warranty fee for all 15-inch MacBook Pro battery replacements, which is $199 in the United States. The fee is waived if the notebook is covered by an AppleCare+ plan.
Apple first notified service technicians about the "severe constraint" of the top cases in March 2017, when it temporarily stopped facilitating battery replacements. Apple expected the shortage to be resolved by September 15, 2017, but it later extended the date to November 15, 2017, and it evidently took longer.
As a temporary solution, Apple permitted customers to delay service until inventory became available, in exchange for Apple covering the full cost of the battery replacement. If a customer was unwilling to wait, however, Apple permitted them to exchange the MacBook Pro for a functionally equivalent model.
This generous policy resulted in many customers being able to exchange a 2012 MacBook Pro for a much newer model, such as a maxed-out refurbished 2016 MacBook Pro with Touch Bar, for just the $199 cost of a battery replacement. The only requirement was that the battery failed Apple's diagnostic test.
Apple stopped offering replacement units for repairs initiated after July 26, 2017, due to a temporary improvement in top case availability, but it began offering free, delayed battery replacements again for repairs initiated after August 25, 2017. That policy is what appears to be ending as of this week.
All in all, customers with a Mid 2012 or Early 2013 model 15-inch MacBook Pro who are in need of a new battery should be able to pay for the service without significant delays or other issues going forward. The process can be initiated from the Contact Apple Support page by selecting Mac → Mac Notebooks.