Apple Still Offering Free Delayed Battery Repairs for Some 2012 and Early 2013 MacBook Pros
If you own a 15-inch MacBook Pro with Retina display released in Mid 2012 or Early 2013, and your notebook qualifies for battery service, the repair should be free if you are willing to wait for around one month.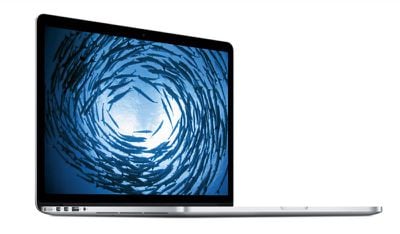 Apple has advised Genius Bar employees and Apple Authorized Service Providers to offer these customers a free battery repair if they are willing to wait until at least November 15 for the service to be completed.
Apple has offered this option since August 25 due to a continued shortage of the aluminum enclosure that the battery is glued into on the aforementioned MacBook Pro models, according to an internal memo obtained by MacRumors.

Top case with glued-in battery for Mid 2012 15-inch MacBook Pro via iFixit
If a customer does not wish to delay the repair, Apple says that standard out-of-warranty prices for battery service apply: $199 in the United States, £199 in the United Kingdom, $289 in Australia, or $259 in Canada.
The policy doesn't apply to any other Mac, including the 13-inch MacBook Pro, 12-inch MacBook, MacBook Air, or models without Retina displays.
To check if your qualifying MacBook Pro needs battery service, click on the Apple logo in the menu bar. Then, click on About This Mac > System Report > Power. In the Health Information section, the condition should say "Service Battery."
Apple will confirm if the MacBook Pro qualifies for battery service by performing a diagnostic test at the Genius Bar at most Apple Stores. Repairs are allowed for failed, consumed, and swollen batteries.
Apple is no longer offering customers the option to exchange their MacBook Pro for a functionally equivalent model, as it did for repairs initiated between March 2 and July 25 due to the same part shortage.
During that time, many customers were able to exchange a 2012 MacBook Pro for a much newer model, such as a maxed-out refurbished 2016 MacBook Pro with Touch Bar, for just the cost of an out-of-warranty battery repair.
Update: There's been some confusion about Apple's battery replacement options in the forums. There is no official repair program or free replacement policy for 15-inch MacBook Pro batteries.
Apple will let you pay to replace a faulty battery in any MacBook Pro, but because of part constraints for 15-inch MacBook Pro models, some users have been offered a free replacement due to the wait. It appears some users have been able to successfully get a free battery replacement while others have not, so though Genius Bar employees have been advised to offer free battery repairs in situations where parts are constrained, some Apple Stores may not provide the option.