Apple Exchanging Some 2012 and Early 2013 MacBook Pros Needing Battery Service With Newer Models [Updated]
After hundreds of charging cycles, a MacBook Pro's battery begins to lose its ability to hold a charge and should be replaced. Apple offers battery service free of charge with AppleCare+ coverage, or it charges an out-of-warranty fee of $199 in the United States, £199 in the UK, or $259 in Canada.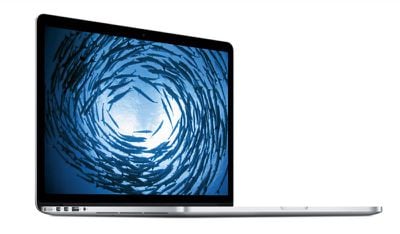 Due to a severe constraint of top case assemblies with glued-in batteries, however, Apple has informed its Genius Bar employees and Apple Authorized Service Providers it is currently unable to service the batteries of 15-inch MacBook Pro with Retina display models released in Mid 2012 and Early 2013.
According to Apple's internal directive, obtained by MacRumors, top case assemblies with batteries for the aforementioned MacBook Pro models will remain severely constrained until September 15, 2017. The directive does not identify a reason for the shortage, which has been ongoing since at least March.
As a temporary solution, Apple's directive says customers may choose to delay battery service until inventory becomes available, in exchange for Apple covering the cost of the repair. Alternatively, to avoid the delay, Apple's directive says customers may exchange the MacBook Pro for a functionally equivalent model.
Given the affected MacBook Pro models were released between four and five years ago, however, an increasing number of customers have shared stories of Apple replacing their notebooks with significantly newer models.
Reddit user NoTNoS, for example, said Apple exchanged his 2012 model 15-inch MacBook Pro for a 2017 model 15-inch MacBook Pro with Touch Bar. He said the process took about 10 business days, and he was allowed to keep his old MacBook Pro during the wait. The only cost was the $199 battery service fee.
Dozens of other MacBook Pro owners have shared similar experiences on Reddit, while only a handful of users have shared unsuccessful attempts. Many users appear to have received refurbished 2015 MacBook Pro models, but some others claim to have received even newer 2016 or 2017 models.
In order to potentially qualify, you must have a Mid 2012 or Early 2013 model 15-inch MacBook Pro with a Retina display. The policy doesn't apply to any 13-inch MacBook Pro, any Late 2011 or older MacBook Pro, any Late 2013 or newer MacBook Pro, any MacBook Pro without a Retina display, or any MacBook Air.
Secondly, the MacBook Pro must be in need of battery service. To check, click on the Apple logo in the top-left corner of the macOS menu bar, and then click on About This Mac > System Report… > Power. Under the "Health Information" section, the condition should say "Service Battery" or an equivalent status.
As a rule of thumb, the battery should typically have a full charge capacity below 80 percent, which can be estimated with a tool like coconutBattery. The battery's charge cycle count may also be a factor. Only Apple's diagnostic test will ultimately determine if the battery requires servicing.
Since the process appears to differ on a case-by-case basis, each customer's mileage may vary. Apple could stop acknowledging this internal policy at any time, and not all employees may be aware it exists.
There doesn't appear to be any regional limitations to the policy, with customers who successfully exchanged their MacBook Pro models residing in the United States, UK, Canada, Brazil, Spain, Australia, and other countries. It also doesn't appear to matter if the Mac is covered by AppleCare+ to qualify.
Eligible customers that wish to press their luck may visit any Apple Store, or supposedly select Apple Authorized Service Providers. Booking a Genius Bar appointment through the Apple Support website is recommended.
Update: In an internal memo obtained by MacRumors, Apple has informed Genius Bar employees and Apple Authorized Service Providers that it is actively working to rebuild worldwide supply of top case assemblies with batteries for Mid 2012 and Early 2013 models of the 15-inch MacBook Pro with Retina display.
Apple's memo says, effective July 26, service inventory of top case assemblies with batteries are now available for new repairs. The directive adds that MobileGenius, the service and support tool that Genius Bar employees use on the iPads they carry around, has stopped presenting messages about delayed repairs.
For all new repair requests, Apple advises Genius Bar employees and Apple Authorized Service Providers to order the necessary inventory. Apple advises its service providers to inform customers that the inventory should arrive within 15 business days of the part order, corresponding with early August.
Apple's memo today appears to mark the end of the company offering outright exchanges for newer MacBook Pro models. Many users on MacRumors and Reddit have confirmed Genius Bar employees are now informing customers that battery inventory is available in 15 business days as instructed.
It's unclear if Apple Stores will honor exchanges initiated prior to July 26 that are still being processed.