Netgear today announced the "Orbi Tri-Band Wi-Fi Cable Modem Router System," an all-new 2-in-1 device designed to replace an existing cable modem and router setup. The system covers up to 4,000 square feet, and sold-separately Orbi Satellites can expand coverage by an additional 2,000 square feet each.
The new Orbi is compatible with all major cable internet service providers, and Netgear pointed out that it's designed to work "right out of the box" for Xfinity, Spectrum, Cox, and more. This is Orbi's first product that combines its Wi-Fi mesh networking abilities with a modem.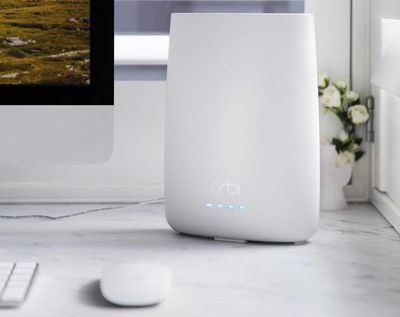 If users don't own their modem, many ISPs offer leases with rental costs at around $10/month added on top of the cost of an internet bill. Because of this, Netgear is pitching the new Orbi as a cost-saving measure for users to replace their existing products "and save up to $120 per year." The new Orbi starts at $299.99.

"We're excited to be the first retail offering to combine the benefits of Orbi whole-home WiFi mesh networking with an embedded cable modem in a single, space-saving device," said David Henry, senior vice president of Connected Home Products for NETGEAR.

"With the Orbi Tri-Band WiFi Cable Modem System, you'll benefit from incredibly fast cable downloads and blazing-fast WiFi for an uninterrupted data flow to more connected devices, everywhere in your home, plus tons of great Orbi features like voice commands and smart parental controls, which will be added to the offering soon."
On the modem side of things, the Orbi integrates a DOCSIS 3.0 CableLabs-certified modem with 32x8 channel bonding and download speeds of up to 1.4 Gbps. Netgear said the device's router supports high-performance Wi-Fi up to 2.2 Gbps; multi-user multiple-input, multiple-output technology; and includes a quad-core processor for better 4K video streaming.
Orbi also has "Smart Connect Technology" that chooses the best Wi-Fi band for each device on a network, avoiding interference and optimizing network performance, while Beamforming+ improves speed and range for 2.4 and 5 GHz devices. The Orbi itself includes four Gigabit Ethernet LAN ports so that users can attach wired devices and ensure even faster file transfers and reliable connections.
The system uses a connected iOS app that lets users set up the device, manage their network, update software, and other features. Netgear said that Orbi is compatible with voice commands for Alexa and Google Assistant, but didn't mention Siri support.
The Orbi Tri-Band Wi-Fi Cable Modem Router will be available to purchase soon for $299.99, while a bundle with one Orbi satellite runs for $399.99.