Featured Apps in Revamped iOS 11 App Store Can See 800% Download Boost
Earning a featured spot in the revamped iOS App Store can increase app downloads by up to 800 percent, according to new data sourced from app analytics site Sensor Tower and shared by TechCrunch.
The data, collected from September 2017 to the present, suggests an app that's highlighted using either the "App of the Day" or "Game of the Day" feature in the U.S. sees the greatest increase in downloads.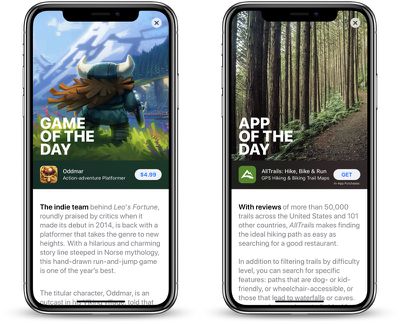 Specifically, "Game of the Day" apps have seen a median download increase of 802 percent for the week following the feature, while "App of the Day" apps have seen a boost of 685 percent.
Other features, such as a developer story or an app list can increase downloads by up to 240 percent. Stories resulted in a 222 percent boost in downloads, while app lists increased downloads by 240 percent. A theme feature had the lowest impact at a 164 percent increase in downloads.


Sensor Tower has also outlined what kind of data Apple has chosen to highlight through the new App Store design. Many of the top publishers that have been featured are larger companies, like Electronic Arts, Warner Bros., Square Enix, Gameloft, Noodlecake Studios, and King, which is unsurprising as these companies have put out some of the most popular apps in the App Store.
13 of the top 15 featured publishers had at least one million U.S. iPhone downloads since the launch of the new App Store.


Apple has, however, also focused on highlighting indie apps. 29 percent of apps featured since the launch of the new App Store have been from publishers who had fewer than 10,000 downloads at the time.
"While it's clearly the case that big publishers are more likely to receive the largest number of features, small publishers still very much have their chance to benefit from a feature on the App Store," said Sensor Tower's Mobile Insights Analyst, Jonathan Briskman.
Apple introduced the redesigned App Store in iOS 11 to offer additional opportunities for exposure to app developers. The new App Store includes a "Today" section that's updated daily with app suggestions, featured spots, app lists, developer features, and more, and it splits apps and games into two distinct categories.
Content featured in the new App Store is chosen and curated by Apple's App Store editorial team, which ensures high-quality recommendations that don't rely solely on popularity rankings.
As noted by TechCrunch, Sensor Tower's data suggests that Apple's goal of increasing developer exposure through the new App Store design has largely been a successful venture.