Amazon Has Reportedly Gained Edge Over Apple in Deals With Smart Home Builders
Amazon appears to have gained an edge over Apple in deals with smart home builders, according to The Information.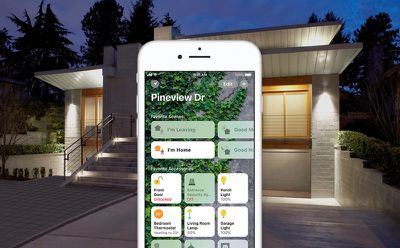 The paywalled report claims that an increasing number of home builders have agreed to partnerships with Amazon to build homes with preinstalled Alexa-enabled accessories, rather than HomeKit-based products from Apple.
Last year, for example, Amazon reportedly struck a large-scale deal with Lennar, one of the biggest home builders in the United States. Lennar first had a partnership with Apple in 2016, but the company is "prioritizing Amazon now."
As part of its deal, Lennar gets access to Amazon's growing army of so-called Amazon experts, the company's in-home service team, to go around to every new homeowner and make sure their smart home is hooked up. Every new Lennar home comes with Echo Dot speakers and Echo Show displays to connect with Alexa, as well as a suite of connected doorbells, locks, light switches and thermostat.
A few other builders, such as Arizona-based Meritage Homes and Shea Homes, also said they considered Apple but opted for Amazon.
"Apple is closed source about what will talk to their system, so we shied away from it," said CR Herro, a vice president with Arizona-based Meritage Homes. "I don't want to restrict what I think the future could be because I have no idea what it will be."
The report claims that Apple requiring accessory makers to install an authentication chip for HomeKit compatibility has "significantly limited the number of new devices getting to market," but that is no longer the case, as iOS 11.3 introduced software-based authentication for accessories to interface with HomeKit.
Meanwhile, some builders believe there is a downside in allowing Amazon to embed a network of Alexa-powered devices that can collect data into homes, ranging from privacy concerns to competitive reasons.
Startup home builder Kasita, for instance, thinks these traditional players are giving up a huge amount of business by linking up with Amazon. Kasita uses Alexa devices for performing voice control in its "micro homes," but tries to maintain its relationship with the consumer by providing its own app and wants to offer its own services to consumers in the future.

"Amazon owns you when you buy anything online," said Jeff Wilson, founder and chairman of Kasita. "Do you really want them owning home experiences?"
While new homes are estimated to account for only about 10 percent of residential home sales in the United States, Apple believes the best way to introduce homeowners to HomeKit is from the get-go.
"We want to bring home automation to the mainstream," said Greg Joswiak, a marketing executive at Apple, in an interview with Bloomberg. "The best place to start is at the beginning, when a house is just being created."