Apple Working With Home Builders to Bolster HomeKit Adoption
Apple is partnering with various building companies to integrate its HomeKit platform directly into homes from the get-go, with the hopes that such ingrained smart home features will convince prospective buyers into sticking with the Apple ecosystem for the long haul. The news comes in a report by Bloomberg, which looked specifically at a four-bedroom stucco house in Alameda, California as one of Apple's many HomeKit-enabled properties coming to the market.
David Kaiserman, president of the technology division at construction company Lennar Corporation, walked Bloomberg through the potential advantages of buying a smart home from the start, mainly centering around the sometimes frustrating installation of devices like smart blinds and locks. In the home in Alameda, Siri responded to "Good Morning" light requests, while Apple's new Home app played music from connected speakers, and even ran a bath. All told, $30,000 worth of connected technology was integrated into the house.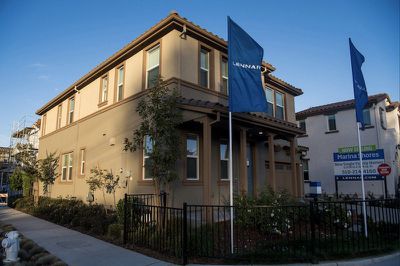 The model smart home in Alameda, California
Apple's vice president of product marketing, Greg Joswiak, said that the company's goal with these so-called "test beds" of internet-connected smart homes is to eventually introduce complete home automation into a mainstream market, which could otherwise be tricky if users have to go out and buy dozens of separately-sold products. As such, Joswiak concluded that "the best place to start is at the beginning."
The gamble is that pricey wireless home devices will be an easier sell when bundled into the home itself. Builders market granite countertops and brushed-nickel fixtures at thousands of models homes across the U.S. Why not video doorbells?

"We want to bring home automation to the mainstream," said Greg Joswiak, Apple's vice president of product marketing. "The best place to start is at the beginning, when a house is just being created."
Purchasing a house with smart devices already installed doesn't appear to come at a discount, however. The $30,000 worth of products inside the Alameda home included devices like Lutron's automated shading system, which starts at $349, and the Schlage Connect Touchscreen Deadbolt, which retails for $199. As Bloomberg pointed out, "a regular deadbolt fetches $32 at Home Depot -- and there's always hiding a key under the flower pot."
Apple is said to be working with other builders besides Lennar, including Brookfield Residential Properties Inc., but neither company said when the smart homes would actually go up for sale. Kaiserman mentioned that he hopes working with Apple in the smart home market will produce a "halo effect," in any neighborhood that the homes sell in, convincing potential buyers that the new home has a "cool" factor that other properties nearby lack.


All the same, some people watching the rise in connected home devices believe "the hype may be getting ahead of the reality," with examples given centering around products like a wireless onesie for a baby that can turn on lights and play soothing music when the child stirs. Likewise, IDC analyst Jonathan Gaw cited "useless" products like the recently announced smartphone-controlled candle LuDela, which "only hurts the message. It tells people that we have gone too far. There's too much crap out there, it's only diluting stuff that's really cool."
For people interested in smart home tech, it's predicted that a total of $24 billion will be spent on home automation in 2016. While it may take a while for its popularity to catch on, research firm Strategy Analytics believes that number will jump to over $40 billion by 2020, potentially with the help of companies like Apple leading the way into whole-home integration of the technology.
Check out the full Bloomberg report here.