82% of Teens Surveyed Now Own an iPhone, 84% Plan to Purchase
The iPhone continues to be the most popular smartphone by far among teens, according to new data gathered by investment firm Piper Jaffray for its most recent semiannual teen survey in the United States.
82 percent of teens surveyed own an iPhone, up from 78 percent in the fall of 2017, while 84 percent of teens expect their next phone to be an iPhone, up from 82 percent in fall 2017. Teen ownership and interest in iPhone has grown steadily over the past several years, as demonstrated in the chart below.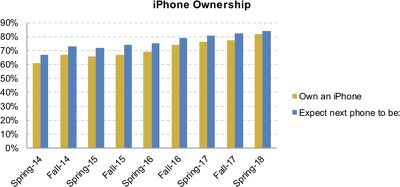 The Apple Watch is also becoming more popular among teens and saw its highest teen survey share yet in the spring of 2018. 12 percent of upper income teens said Apple Watch was their preferred watch brand, up from just seven percent in the fall of 2017. Among all watch brands, Apple Watch was the second most popular after Rolex.


20 percent of teens said they plan to buy an Apple Watch in the next six months, up from 17 percent in the year-ago survey. Strong growth in Apple Watch interest in the current quarter suggests Apple's Series 3 and Series 1 models are popular among teens.


Interest in both Apple Watch and iPhone could see improvement in the coming fall 2018 survey, as major changes are rumored for both devices.
The Apple Watch Series 4 could bring the first design changes for the wrist-worn device, while rumors suggest Apple will be introducing three iPhones in 2018, including a 5.8-inch iPhone X followup, a larger 6.5-inch OLED device that can be thought of as an "iPhone X Plus" and a 6.1-inch LCD device that's expected to carry a lower price tag.
All three iPhones are rumored to include an iPhone X-style design with an edge-to-edge display that does away with Touch ID in favor of Face ID.
For the spring 2018 teen survey, Piper Jaffray surveyed a total of 6,000 teens with an average age of 16.4 and an average household income of $66,296. 45 percent of teens surveyed were female, while 55 percent were male.