76% of U.S. Teens Surveyed Using iPhones, 81% Plan to Purchase
The iPhone continues to be the most popular smartphone among teens, according to data gathered by investment firm Piper Jaffray in its most recent semiannual U.S. teen survey.
76 percent of teens surveyed own an iPhone, up from 69 percent in the spring of 2016, and the highest ownership level seen in the teen survey. A record 81 percent of teens surveyed said they expect their next phone to be an iPhone, up from 75 percent a year ago.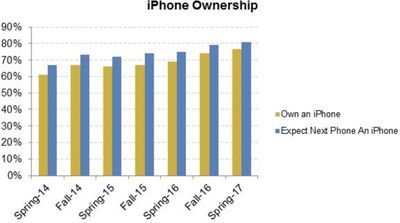 Piper Jaffray attributes the jump in interest to the upcoming 2017 iPhone, which is expected to include an OLED display with an edge-to-edge design, a glass body, a faster A11 processor, no Home button, and wireless charging capabilities.
Apple continued to grow smartphone share among teens with 76% of teens owning an iPhone vs 74% in Fall-16. We view the survey as a positive data point on iPhone 7 demand and excitement around the upcoming launch of the 10th anniversary iPhone (iPhone X)
Teen interest in smart watches has also continued to grow, with interest in the Apple Watch up slightly. 13 percent of teens surveyed said they plan to buy an Apple Watch in the next six months, compared to 11 percent in the spring of 2016.


Among fitness bands, the Apple Watch is the second most popular choice after Fitbit. 71 percent of teens said they prefer the Fitbit, while 10 percent chose the Apple Watch. Nine percent preferred Nike-branded fitness bands, while four percent preferred Garmin.


While iPhone adoption among teens could see significant growth in the fall with the release of a new line of iPhones with exciting new features, Apple Watch growth may remain stagnant as rumors have thus far not pointed towards major changes.
For the teen survey, Piper Jaffray accumulated responses from 5,500 teens in the United States with an average age of 16.