Fitbit Versa Reviews: Solid Smartwatch Option at $200 Unlikely to Lure Away Apple Watch Owners
Nearly two weeks after Fitbit first announced the Fitbit Versa, reviews for the new smartwatch have now emerged online today. Many of the reviewers agreed on the following points: the Versa is a step above last year's Fitbit Ionic, trading off GPS and NFC is worth it for the $200 price tag, and Fitbit still hasn't launched a device that could properly challenge the Apple Watch's dominance.
The Verge started off by pointing out that text message notifications on the Versa are clunky for iOS users, especially because "there's no way to respond to them" from the watch. Android users will have a "quick replies" feature updated in May, and because of this and other factors The Verge ultimately explained that the Fitbit Versa could appeal to "everyone other than those hardcore Apple users."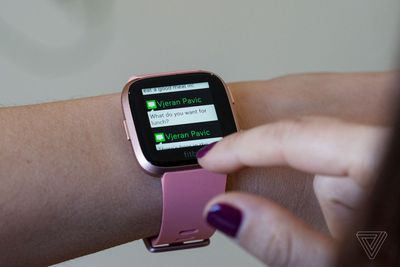 So it all comes down to how much you want to pay, how tied into the Apple ecosystem you are, and how much you care about battery life. Fitbit may have a hard time luring away hardcore Apple fans, especially since the Versa is coming to market years after the original Apple Watch. On the flip side, it may be appealing to Android users, as Google's Wear OS smartwatch platform has stagnated at this point.
Engadget said that while the Versa looks like a "slightly wider Apple Watch," it's also the "best-looking Fitbit yet." To get the Versa to its $200 price point, Fitbit removed some features from the standard version of the smartwatch, like GPS and NFC, but Engadget said that this price drop is what could help the company "reach a bigger audience" in the future.

Ultimately, the things that stand out about the Fitbit Versa are its sub-$200 price and attractive design -- this is a Fitbit that finally looks more like a smartwatch than a fitness tracker. With the addition of female health tracking in May, the Versa could be even more helpful to women. It's disappointing that GPS isn't built in and NFC is missing, but those tradeoffs may help Fitbit reach a bigger audience.
In its review, Ars Technica called Fitbit's fitness app the "best health and fitness program for any wearable," thanks to its flexibility to adapt to both workout novices and experts. The site liked how the $39.99/year Fitbit Coach service integrated with Versa, although the wearable experience is still lacking in comparison to the mobile app.

However, Fitbit has the opportunity to make its wearable operating system just as killer as its mobile application and overall ecosystem—if it can do that, its devices will be strong contenders in the smartwatch world. It may not have made a splash as Fitbit's first smartwatch, but if any device can entice users to take a chance on Fitbit as their smartwatch provider, it's the $200 Versa.
As a quick tidbit, most of today's reviews mentioned that the process of swapping out bands on the Fitbit Versa is far more difficult when compared to Apple Watch. A few also commented that the Versa's bezels are sometimes noticeable in certain lighting situations, with The Verge further pointing out that Fitbit "had enough space to cram the word "fitbit" onto the watchface, a questionable design choice."
More opinions on the Fitbit Versa can be found online at the following websites: Wareable, TechCrunch, CNET, Tom's Guide, Gizmodo, and PCMag.