Fitbit Announces New Apple Watch Rival 'Versa' and Kid-Friendly 'Ace'
Fitbit today announced the Fitbit Versa, which the company described as the "smartwatch for all." The Versa has a few features that directly compare it to the Apple Watch, as well as an overall design that looks similar to Apple's wearable device. Alongside the Fitbit Versa, Fitbit announced a kid-focused Fitbit Ace device and female health tracking coming to the Fitbit iOS app.
Fitbit said the Versa is the "lightest metal smartwatch" in the United States market, with a case made out of ultra-thin, anodized aluminum that is slightly tapered and angled so it fits small or large wrists. The device's touchscreen supports a brightness of up to 1,000 nits, allowing users the ability to read the screen in bright environments, and it has a battery that will last for 4+ days.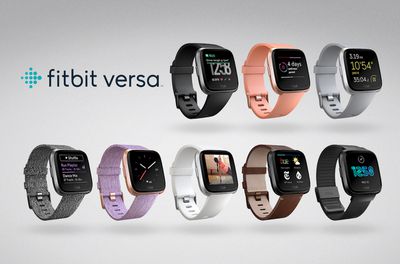 The Fitbit Versa has many of the expected features seen in previous Fitbits, like 24/7 heart rate tracking, onscreen workouts, onboard music storage, automatic sleep tracking, and wallet-free payments on the Fitbit Versa Special Edition with an NFC chip. Fitbit will also sell a variety of accessories, ranging from stain-resistant classic bands to Horween leather, stainless steel links, metal mesh bands, and a designer collection.

"As the wearables category continues to grow, Fitbit Versa fills a critical need in the market by delivering a beautifully designed, full-featured smartwatch that is easy to use at a very competitive price," said James Park, co-founder and CEO of Fitbit. "Versa brings consumers the advanced health and fitness features Fitbit is known for, along with broad compatibility across mobile platforms and 4+ days battery life to provide users with a better picture of their overall health, making it stand out from any smartwatch available today."
The new smartwatch will launch with Fitbit OS 2.0 for the company's line of wearable devices, which will include a new personalized dashboard for a simplified overview of a user's health and fitness data. Users will be able to see daily and weekly health stats, historical activity, heart rate, exercise summaries, motivational messages, tips, and daily guidance, all from their wrist.

Over time, Fitbit said this dashboard will become more personalized, offering reminders, celebrations, logging, insights, sleep summaries, and social challenges, all with prompts to take actions based on each user's own data. This ongoing personalization aspect of Fitbit OS 2.0 is said to launch later in 2018. Here are a few other features available on Fitbit Versa with Fitbit OS 2.0:

Music on your device: Listen to phone-free music anywhere using Bluetooth headphones like Fitbit Flyer, including 300+ songs from your personal music collection, your favorite stations from Pandora, and now your own or curated playlists as well as Flow from Deezer.

Apps and clock faces you want: Personalize your device by choosing from a wide range of apps and clock faces in the Fitbit App Gallery, including those from Fitbit, Fitbit Labs, and popular brands like E*TRADE, Flipboard, Hue Lights, Nest, Starbucks, Strava, Surfline, United Airlines, Weather powered by AccuWeather, and Yelp. The Fitbit App Gallery has more than 550 apps and clock faces available today, many of which developers are working to make available to Versa users soon.
Fitbit Ace, the kid-focused wearable band, will include many of Fitbit's features in a pared-down hardware model. Kids eight and older wearing the device will see that it automatically tracks steps, active minutes, and sleep on a five day battery. Using a Fitbit family account, parents will be able to monitor and control who their kids connect with in the Fitbit app and other features of the Ace band.


The band will remind kids to move, and reward them for listening to such reminders with collectible badges. Coming soon, Fitbit will launch daily and weekly challenges where families and friends can compete against one another in certain health goals. There will also be a "Family Faceoff" that challlenges family members in a family account to earn the most steps in five days.
Fitbit Ace can be pre-ordered today on Fitbit.com for $99.95, and will launch in Q2 2018. Fitbit Versa is available to pre-order today on Fitbit.com and at select online retailers tomorrow, priced at $199.95. The smartwatch will come in the following colors: black with a black aluminum case, gray with a silver aluminum case, and peach with a rose gold aluminum case. Band accessories will start at $29.95 and cap at $99.95. For those who want the NFC-enabled Fitbit Versa Special Edition, that model will be $229.95. The device will officially launch worldwide in April.