In the late 1980s Jim Reekes began working as a sound designer for Apple, creating some of the Mac's most iconic sounds like the "Sosumi" beep, startup chord, and camera/screenshot click. In a new interview with CNBC, Reekes discussed the origins behind each of these sound creations, and what he thinks about the current audio design of Apple devices. Reekes has touched upon these topics before, but they remain interesting for anyone who might not have heard about this part of Apple's history.
Reekes explained that the reason for the name "Sosumi" began with a lawsuit from The Beatles' record label, also named Apple. At the time, Steve Jobs promised that his company would stay focused on computers and not get involved with music, so that the two similarly named companies could coexist.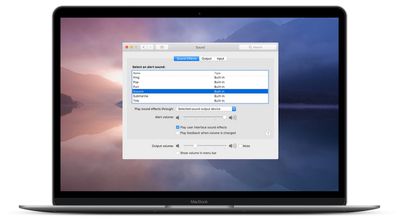 After Macs added support for audio recording and MIDI (a standard that connects musical instruments to computers), The Beatles sued and forced Reekes to rename any sound effect that had a "musical-sounding name."
Reekes' frustration with the lawsuit eventually led him to the name "Sosumi," because it sounded like "so sue me." Today, Sosumi is still available as an alert sound in the Mac System Preferences.

One of his beeps, originally called "Xylophone," needed a new name. "I actually said I'm gonna call it 'let it beep' and of course you can't do anything like that, but I thought yeah, 'so sue me.' And then I thought that's actually the right name," Reekes said. "I'll just have to spell it funny, so I spelled it Sosumi."

He told the lawyers it was a Japanese word that didn't mean anything musical. "That's how that Sosumi beep came around," Reekes explained. "It was really me making fun of lawyers."
Reekes also looked back on the Mac's original startup tone, which annoyed him "immensely" because the Mac crashed so many times that it was easy to equate the tone with a frustrating situation. Although he didn't have permission to change it, he recorded a new c-major chord in his living room and used The Beatles song "A Day in the Life" as inspiration.

Jim Reekes and the keyboard he used to record the original Mac startup sound via CNBC
Eventually, Reekes managed to sneak the sound into the original Macintosh Quadra computer.
Some engineers at Apple were not happy with the change. "Our excuse was it's too risky to take it back out at this point because something could crash," he said. "We just made up some bulls---."

It stuck, and years later Apple even trademarked the start-up sound. It's one of the few sounds that's trademarked, along with the NBC chimes and the Intel signature sound. "Kind of silly right?" Reekes smirked. "I'm playing a c-major chord and it's famous and it's a copyright."
On the topic of startup sounds, Reekes voiced his disappointment in the lack of any startup chimes on most Macs today, and gave his opinion on the company's current overall sound design. "I haven't really seen much interesting audio coming out of Apple for a while," he said. Reekes left Apple in the late 1990s and is now a consultant and "out of the sound design business."
There are plenty of other tidbits from Apple's sound design history in the interview, including the origins of the camera click heard on Mac screenshots and in the iPhone's camera app, taken from Reekes' old 1970s Canon AE-1. To read more from the interview, visit
CNBC's website
.