Apple Rises to Sixth in LinkedIn's 2018 List of Top Companies to Work, Trails Amazon, Alphabet, and Facebook
Apple is ranked sixth on LinkedIn's annual list of the top 50 companies where professionals most want to work in the United States.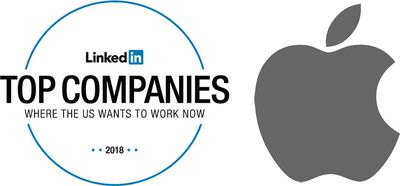 Apple moved up one spot after ranking seventh in 2017. The top five spots belong to Amazon, Alphabet, Facebook, Salesforce, and Tesla, while NBCUniversal, The Walt Disney Company, Oracle, and Netflix round off the top ten.
LinkedIn says the list is based on billions of data points generated by over 546 million users on the site, with four areas of focus: interest in the company, engagement with the company's employees, job demand, and employee retention.
Job demand: At what rate are people viewing and applying to job postings, including paid listings, unpaid ones and those linked from other sites?

Engagement with the company: How many professionals are viewing a company's career page? How many new followers has the company attracted?

Interest in its employees: How many non-employees are viewing and asking to connect with a company's employees?

Retention: Are employees sticking around for at least a year?
It's worth noting that many different lists are published each year, and the results can often vary significantly. In December, for example, Apple ranked 84th on Glassdoor's annual list of the best companies to work at in the United States.
2018 LinkedIn Top Companies:
Amazon

Alphabet

Facebook

Salesforce

Tesla

Apple

NBCUniversal

The Walt Disney Company

Oracle

Netflix




Spotify

Uber

McKinsey & Company

Adobe

Airbnb

Time Warner Inc.

Dell Technologies

JPMorgan Chase & Co.

LVMH

IBM

Samsung

Deloitte

Verizon

Goldman Sachs

PwC

The Boston Consulting Group

Live Nation Entertainment

Morgan Stanley

EY

Stryker

Cisco

Dropbox

National Basketball Association

Accenture

Nike

WeWork

Citadel

Kering

National Football League

Square

ADP

Capital One

Twitter

Box

Johnson & Johnson

Starbucks

PepsiCo

JLL

Tableau Software

Abbott
LinkedIn shared similar lists for other countries, including Canada, Australia, Brazil, France, Germany, and the United Kingdom.