Nest Now Shipping 'Hello' Smart Doorbell With Night-Vision Camera and Two-Way Audio
Nest has begun shipping the Hello, a smart doorbell that's capable of streaming 160 degree HD live video from your door directly to your phone.
First announced back in September, the $229 doorbell device can take a photo of a person standing on your doorstep before the bell is even rung, and also supports two-way audio so you can speak with them.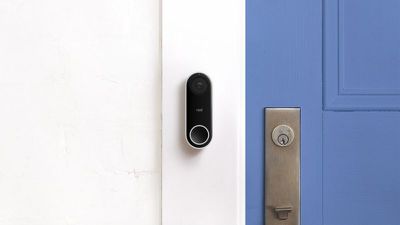 The doorbell features a 3-megapixel camera with infrared night vision and records 1,600 × 1,200 video at 30 frames per second. The Hello also has a 160-degree field of view, and is 802.11 a/b/g/n Wi-Fi compatible. It stores up to three hours of video out of the box, with additional storage available by taking up a Nest Aware subscription.
In addition to shipping Hello orders via its online store, Nest also announced it is now shipping the $249 Nest x Yale Lock, a tamper-proof deadbolt front door lock with touchpad that connects to the Nest app. The touchpad means owners can give people they trust a passcode instead of a key for entry, and the door it's attached to can be locked and unlocked wirelessly.


Lastly, Nest also revealed that it is now taking pre-orders for its new wireless external temperature sensors for the Nest Learning Thermostat and Thermostat E. Owners can add up to six of the battery-powered, inch-wide sensors, each of which cost $39, or $99 for a three-pack. Nest also says it plans to bundle its thermostats with the temperature sensors after they officially hit stores in April.
Nest products don't integrate with Apple's HomeKit setup, but are popular competing connected home solutions. See the Nest website for more details.