Google Debuts 'Android P' With Support for iPhone X-Style Notches
Google today announced a new Android update, Android P, which introduces support for display notches built into Android devices that mimic the design of the iPhone X.
According to Google, Android P offers support for "the latest edge-to-edge screens with display cutout for camera and speaker," with a new "DisplayCutout" class for outlining the size and shape of a notch on an Android device.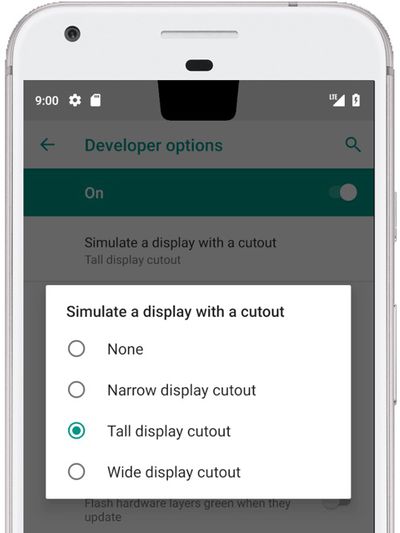 Several new Android devices feature an edge-to-edge display with an included notch much like the iPhone X. The Leagoo S9, for example, is a $150 iPhone X clone that features slim side bezels and a front notch, with a design that looks very similar to the iPhone X.

Leagoo S9


The recently announced Asus ZenFone 5 also adopts a design that uses a notch, and when it was unveiled, Asus bragged that its notch is 26 percent smaller than the notch on the iPhone X.

Asus ZenFone 5


Other clone devices have surfaced from Chinese vendors, such as the Boway "Notch Series," and with official Android support for notch-style designs, we'll likely see more Android smartphones that aim to emulate the iPhone X. Even more well-known Android smartphone vendors are embracing the notch, with LG's upcoming G7 said to include a notched design.


Apple implemented a notched design in the iPhone X in an effort to maximize the available display area. The notch houses the TrueDepth camera system, which includes several components necessary for Face ID. Android companies copying Apple's design aren't using the notch in the same way, with currently available models offering fingerprint scanners rather than facial recognition.
In addition to notch support, Android P includes several other notable new features, such as indoor positioning APIs, enhanced notifications, multi-camera support, HEIF image support, design tweaks and changes, restricted access to the mic, camera, and other hardware, and more.
Android P is available for developers starting today, with a public release to come in the future following beta testing. Google is warning that Android P is in the early stages of development and should not be installed on a primary device.