Quick Takes: iPhone X Clones, 5G Network Race is On, Apple Patents Dual Display Device, and More
In addition to our in-depth coverage of the latest Apple news and rumors at MacRumors, Quick Takes is a new column that provides a bite-sized recap of other Apple-related headlines on weekdays.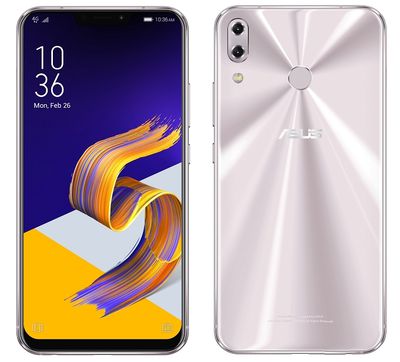 Asus ZenFone 5
The focus this week continues to be on
Mobile World Congress
, where a number of Apple's competitors unveil new products.
Tuesday, February 27
- Asus debuts iPhone X lookalike ZenFone 5: Taiwan's Asus today unveiled the ZenFone 5, its latest Android smartphone that resembles the iPhone X. Asus isn't shying away from the similarities, as on stage, it said the ZenFone 5's notch is 26 percent smaller than the one on Apple's flagship smartphone. ZenFone 5 also has a 90 percent screen-to-body ratio, versus 86 percent for the iPhone X.
Skip to around the 47:55 mark to watch the ZenFone 5 vs. iPhone X comparison
Commentary: It was only a matter of time before Android smartphones imitated the iPhone X, although not all vendors are following suit. Samsung's new Galaxy S9, for example, still has uniform bezels, and the South Korean company has
poked fun at the iPhone X's notch
on stage and
in an ad
last year.
- Apple has added more refurbished Apple Watch Series 3 to its online store: There are currently six Wi-Fi + GPS variations to choose from, but still none with LTE. 38mm models cost $279, and 42mm models cost $309. Each watch is cleaned, inspected, repackaged in a new box with a magnetic charging cable, and protected by a one-year warranty. AppleCare+ is available. Supplies are limited.


Commentary: Apple's certified refurbished products are virtually indistinguishable from brand new products, so if you are in the market for an Apple Watch Series 3, this is a good opportunity to save 13 to 15 percent off regular prices.
- Sprint and T-Mobile have revealed their 5G rollout plans: The carriers plan to build out 5G networks by the first half of 2019, when the first 5G-capable smartphones are expected to launch. Sprint's 5G-ready cities will include Atlanta, Chicago, Dallas, Houston, Los Angeles and Washington, D.C., while T-Mobile will first reach customers in New York, Los Angeles, Dallas, and Las Vegas.
Commentary: The race to 5G is on, but it won't really matter until smartphones are released with support for the ultra-fast technology. A recent report claimed future iPhone models may be equipped with 5G modems from Intel, but it doesn't appear that will happen until the second half of 2019 at the earliest.
- Apple granted patent for a dual display device: The U.S. Patent and Trademark Office today granted Apple a patent for a dual display device. As noted by Patently Apple, the description says the bottom area could be an OLED display, which could allow for a MacBook with a large digital keyboard and trackpad.


Commentary: Apple patents lots of different inventions, many of which never see the light of day as consumer-facing products. However, it's fun to envision a MacBook with an extended Touch Bar, or a foldable 2-in-1 device that could be used as both as a MacBook or iPad depending on its orientation.
For more Apple news and rumors coverage, visit our Front Page, Mac Blog, and iOS Blog. Also visit our forums to join in the discussion.