Apple Named World's Most Innovative Company Due to Focus on Hardware and Software Integration
Fast Company today published its annual rankings of the 50 most innovative companies in the world, and this year, Apple is the number one company on the list for "delivering the future today."
Apple was picked for its impressive list of accomplishments in 2017, which included the iPhone X, the Apple Watch Series 3, ARKit, and its unique focus on hardware and software integration that sets it apart from its competitors. Apple designs its own chips that are optimized for its operating systems, resulting in performance that blows the competition away.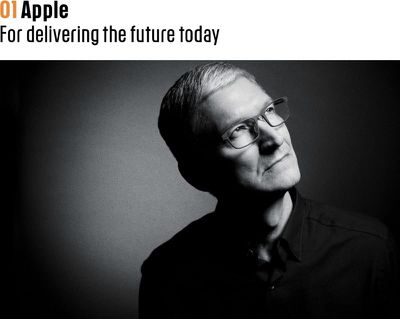 But creativity is more than skin deep--and Apple's approach to the hardware and software engineering that creates its experiences has never been more ambitious. Other makers of phones and tablets buy the same off-the-shelf chips as their competitors. Apple, by contrast, designs its own chips--so an iPhone packs a processor designed specifically optimized for Apple's operating system, apps, display, camera, and touch sensor. The company has gotten so good at chip design that the A10 Fusion inside the iPhone 7 trounces rival processors in independent speed benchmarks.
Apple also topped the list for its focus on privacy-based artificial intelligence advancements, its growing entertainment business, and its work to improve medical care with CareKit and ResearchKit. Its accomplishments boosted it up three spots from last year, when it was ranked the number four most valuable company in the 2017 list.
To create these rankings, Fast Company says that more than three dozen editors, reporters, and contributors surveyed thousands of companies to identify the most notable innovations of the year and trace their impact on businesses, industries, and the larger culture.
Other companies that made the top 10 list include Netflix, Square, Tencent, Amazon, Patagonia, CVS Health, The Washington Post, Spotify, and the NBA.
In addition to a master list, Fast Company publishes a breakdown of most innovative companies by sector. Apple also topped the list in the "Consumer Electronics" category, beating out companies like Amazon, Nintendo, and Sony.