Last month, Apple sued French tax activist group "Attac" for occupying its flagship Parisian store during a protest of what Attac called "wide-scale tax evasion." Today, Apple has asked the court in Paris to ban the group from its French stores and prevent any further stunts from happening.
In response to the court filing, Attac today mobilized in front of the court in further protest, sporting a Star Wars theme that equates Apple to The Empire and Tim Cook to Emperor Palpatine (via The Guardian and MacGeneration).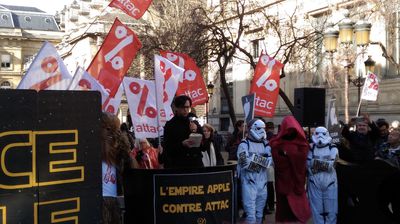 The court will rule later in February on the case, and Apple is said to hope for a full ban to prevent any Attac members entering or being near its Apple retail locations. Apple said the group "vandalizes" its stores and potentially "endangers" staff and customers. One protest in November 2017 saw Attac write "Apple pay your taxes" on a window at
Apple Aix-en-Provence
. Following Apple's claims, the group said its protests are "good natured."
At the height of the Christmas shopping period last December, about 100 Attac volunteers arrived at Apple's Paris store at Place de l'Opéra. Some danced the conga, others unfurled a huge banner saying "We'll stop when Apple pays" and some brandished huge cardboard cheques in reference to the European commission ruling in August 2016 that the iPhone maker must reimburse the Irish state a record €13bn (£11.5bn) to make up for what it considered to be unpaid taxes over a number of years.
In the case filing, Apple said that it has "a long tradition of supporting individuals and groups that peacefully express their opinions," but the company believes the vandalism of its stores and potential danger to its customers are steps too far. In addition to the ban, Apple France has asked the court to fine the activist group 150,000 EUR, and 3,000 EUR in commercial damages "if they break the ban."

An Attac spokesperson denied the vandalism reports from 2017 and said the group "simply went into Apple shops in a festive and good-natured way with music and theatre."
Attac's lawyer Julien Pignon told France Info: "These demands are totally out of proportion with regard to the superior principle of freedom of expression and freedom to demonstrate which is guaranteed by French law and the European convention on human rights."
Attac's ire is focused on tax avoidance claims lodged at Apple over the past few years. In August 2016, the European Commission ruled that Apple must repay 13 billion euros ($15.46 billion) in back taxes dating between 2003 and 2014, which it reportedly avoided with the help of sweetheart tax deals from Ireland. Now, Apple will begin paying the back taxes owed to Ireland around March, expected to continue through September.
The French court is expected to announce its decision on the case on Friday, February 23.
Note: Due to the political nature of the discussion regarding this topic, the discussion thread is located in our Politics, Religion, Social Issues forum. All forum members and site visitors are welcome to read and follow the thread, but posting is limited to forum members with at least 100 posts.