Apple seeded the second beta of macOS High Sierra 10.13.4 to developers earlier this week, but it appears an updated version of the second beta was just released this afternoon.
The original beta had a build number of 17E150f, while the new update available today from the Developer Center lists a build number of 17E150g. It's not clear why Apple has released an updated version of beta 2, but the new beta is also available for public beta testers.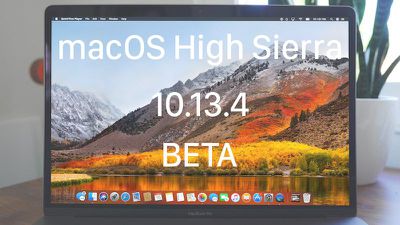 Registered developers can download the beta from the Apple Developer Center or through the Software Update mechanism in the Mac App Store with the proper profile installed.
macOS High Sierra 10.13.4 beta 2 didn't introduce any major new features, but it did change "iBooks" to "Books" to mirror changes made in iOS 11.3.
The update includes bug fixes and performance improvements for issues that weren't addressed in macOS High Sierra 10.13.3, and it offers support for some features that are also available in iOS 11.3, like Messages on iCloud, which uploads all of your iMessages to the cloud. It will also support Business Chat, a feature coming when iOS 11.3 and macOS 10.13.4 are released to the public.
macOS 10.13.4 also includes the smoke cloud wallpaper that was previously only available on the iMac Pro, and it introduces a warning when opening up a 32-bit app as part of an effort to phase them out.
In the future, Apple plans to phase out 32-bit Mac apps, just like it did with 32-bit iOS apps. Apple says macOS High Sierra is the last version of macOS that will support 32-bit apps without compromises.