Apple to Offer Presentation on ARKit at This Year's Game Developers Conference
Apple will be hosting a session at this year's Game Developers Conference for the first time, offering an introduction to ARKit, its augmented reality platform for developers.
The session will be presented by Michael Kuhn, who leads Apple's ARKit engineering team.


Entitled "Introduction to Apple's ARKit: Best practices and recent updates," the talk will cover core concepts of the ARKit framework and the ARKit API. It's designed to teach game developers how to get started with ARKit, and it will cover ARKit best practices.
This session introduces core concepts of the ARKit framework, it's underlying principles, and the ARKit API. It explains how to get started with ARKit using the different tracking and scene understanding capabilities as well integration into rendering/game engines. The session also highlights best practices for AR like starting an experience, placing objects in the real world, interacting with them and implications for games. In addition it explains basic concepts and challenges of AR and Computer Vision to help avoid common pitfalls and allow the creation of great experiences.
Apple has not previously offered developer sessions at GDC, but this is the first GDC since the launch of ARKit and Apple is likely hoping to get more game developers interested in implementing augmented reality features.
ARKit was introduced as part of iOS 11 back in September of 2017, and since then, developers have incorporated augmented reality features into more than 2,000 apps. Major improvements are coming to ARKit with the launch of iOS 11.3 and ARKit 1.5, which may come out right around when GDC takes place and will likely be a topic of discussion.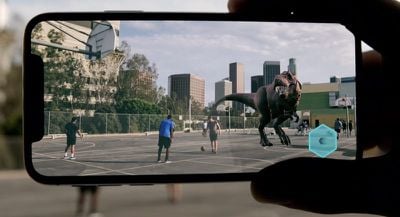 ARKit 1.5 can map irregularly shaped surfaces for better detection of ambient surroundings, it can recognize and map vertical surfaces like walls and doors, and it includes an image detection feature that works on everything from movie posters to bar codes.
The 2018 Game Developers Conference will kick off on March 19 at the Moscone Center in San Francisco, and it will last until March 23.